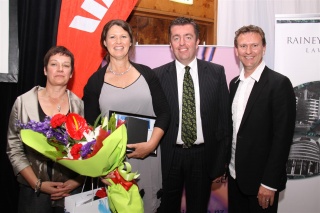 Camilla Welch, owner and General Manager of Petone-based label making and printing business "Label and Litho" has earned the Supreme Business Award at the Her Regional Wellington Businesswoman of the Year Awards, which were announced on Friday 3 December during a ceremony at the Intercontinental Hotel.
Label and Litho is a 50 year old business with 41 staff. It specialises in manufacturing self-adhesive labels for a number of domestic and overseas firms.
Label and Litho increased sales and revenue during the economic downturn, which Ms Welch is tremendously proud of in light of the negative environment surrounding most businesses in Wellington and New Zealand.
The competition judges were Karen Fifield, CEO Wellington Zoo Trust, Adam Cunningham, Management Director, Village Group and Lynell Tuffery Huria, Senior Associate, AJ Park.
They said that Ms Welch is worthy of the Supreme Award because of the commitment to service excellence she and her team deliver at Label and Litho.
"Camilla was selected by the judges for her personal drive and overall business sense. I know a lot of Kiwi businesswomen and men could learn from Camilla's professionalism and staff appreciation," said Sally Connell, Franchise Owner/Director of HER Business Group Ltd, which includes the Wellington Her Businesswoman Network.
Judge Lynell Tuffrey Huria added that Ms Welch's focus on her people was a key component of her business's success, which has enabled the organisation to stand above the rest in a highly competitive market.
Proving that business excellence and environmental friendliness can be mutually rewarding, Ms Welch also received the Sustainability Award in recognition of Label and Litho achieving an EnviroMark Gold certification in 2008. She had previously been a finalist in the sustainability category at this year's Westpac Hutt Valley Chamber of Commerce Business Awards. She also took home on the night the Her Businesswoman award for Best Small and Medium sized Enterprise.
Ms Welch's future plans for Label and Litho are to implement 'lean manufacturing' and improve cash flow. Her long-term objective is to become the best label printing company in New Zealand.
The Her Regional Awards celebrate the success of businesswomen by recognising those who have excelled in business practice. The winners from the regions will now go forward to compete in the national Her Businesswoman Awards later next year.