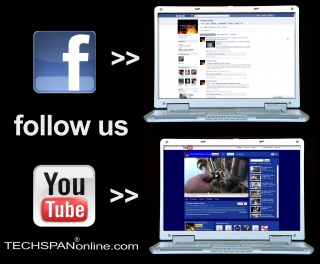 Plastics & Printing technologies supplier Techspan has joined the online social media zone with their inclusion on Facebook and You Tube.
Techspan now has its own Facebook page  and You Tube channel where you will find news and information about the latest inÊPlastics and Printing technologies. Image galleries,
Videos and news stories are all featured.
Techspan released their new "e-commerce" website during 2010, which has made it quick and easy forÊcustomers throughout the Pacific Rim to access pricingÊand purchasing online. Even their News page is a blog so customers can interact with comments or ask specific questons about that new technology they are so interested in.
As of January this year, Facebook had more than 600 million active users, and in May 2010, it was reported that YouTube was serving more than two billion videos a day, which it described as "nearly double the prime-time audience of all three major US television networks combined.
ÊSocial media has been definedÊas "people talking to each other online". Online social networks allow individuals to share information and keep themselves abreast of developments within their social circle, which may be a social circle dedicated purely to family and friends, or may be a circle of contacts which have a common interest or may be a network of business and professional connections.
Social media is the use of web-based and mobile technologies to turn communication into interactive dialogue. Social media are distinct from industrial or traditional media, such as newspapers, television, and film. They are relatively inexpensive and accessible to enable anyone (even private individuals) to publish or access information, compared to industrial media, which generally require significant resources to publish such information.
There are various statistics that account for social media usage and effectiveness for individuals worldwide. Some of the most recent statistics are as follows:
Social networking now accounts for 22% of all time spent online in the US.
A total of 234 million people age 13 and older in the U.S. used mobile devices in December 2009.
Twitter processed more than one billion tweets in December 2009 and averages almost 40 million tweets per day.
Over 25% of U.S. internet page views occurred at one of the top social networking sites in December 2009, up from 13.8% a year before.
Australia has some of the highest social media usage statistics in the world. In terms of Facebook use Australia ranks highest with almost 9 hours per month from over 9 million users.
The number of social media users age 65 and older grew 100 percent throughout 2010, so that one in four people in that age group are now part of a social networking site.
nextSTEP
Visit: www.techspanonline.com