In the picture: Industry Cluster (WAIC) chairman John Jones, left, and advisory board member John Cook sign the paperwork, with Opportunity Hamilton chief executive Sandra Perry and WAIC general manager Shaun Mitchell.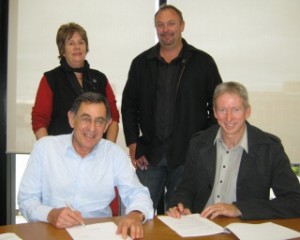 It's an exciting time in Waikato's aviation history with the regionally-based Aviation Industry Cluster spreading its wings to become a business entity and charitable trust in its own right.
The sign-over comes at a time the cluster is leading New Zealand aviation in numerous achievements, including the construction of a specialist aircraft paint facility near Hamilton International Airport.
Opportunity Hamilton, the city's economic development agency, has managed the aviation cluster contract since 2009 when it took over from the Katolyst Group.
Opportunity Hamilton chief executive Sandra Perry, AIC chairman John Jones, AIC general manager Shaun Mitchell and board member John Cook, of Stainless Design, recently met to sign papers allowing the cluster to become its own entity.
Sandra said the cluster stepping out of its own was the next step in recognising its vision to be the centre of light aircraft manufacture, maintenance and pilot training in Australasia.
 "Upon setting up the cluster in three years ago, the goal was always for it to become self-sufficient so the signing has been a real achievement for everybody involved. It shows how there is huge potential for aviation in our region and in New Zealand," Sandra said.
Construction of the paint facility is a major accomplishment to the cluster's achievements, including manufacturing more than 1000 aircraft, establishing an aluminium heat treatment plant and sealing a 650m grass runway.
Aviation Industry Cluster Chairman, John Jones says the clusters' milestones had the world taking notice of the region's aviation sector.
"Our counterparts throughout Australasia now really see aviation in the Waikato and in New Zealand as taking off, whereas in the past weÕve flown under the radar."
A New Zealand Trade and Enterprise report from June 2010 showed the New Zealand aviation sector brought an estimated $9.7 billion into the economy in 2009, with $5.9 billion from domestic activities and $3.8 billion from export activities.
The New Horizons report shows the industry is expected to grow to $12.6 billion by 2015 with John confident Waikato is poised to net a 'significant slice' of the growth.
General manager Shaun Mitchell said the cluster's success would not have been possible without the backing of New Zealand Trade an Enterprise.
NZTE funded $2 million towards the cluster and provided board advisory representative Peter Smyth.
'The cluster's success would not have happened without NZTE. They have provided a huge amount of support to both the cluster and New ZealandÕs aviation sector in general,' Shaun said.
Later this year the AIC is poised to showcase New Zealand's aviation prowess to the international community when it hosts Rugby World Cup visitors at a three-day event The event, held at Te Kowhai Airfield from 13-15 October, will demonstrate New Zealand's capability in aviation design, manufacturing and pilot training. 
Flair is being modelled off the world-famous airshow AirVenture Oshkosh in Wisconsin, USA.  It will combine exhibitions with aircraft demonstrations and new product launches.  All aspects of the industry will be on display, including manufacturing, design, supply, materials, certification, space exploration and pilot training.
The Aviation Industry Cluster has more than 70 members including manufacture and supply and maintenance businesses, pilot training and aviation services. The region is home to some of the world's leading aviation specialists.
Manufacture of 1000th aircraft
In 2010, the cluster commemorated the 1000th aircraft manufactured in the Waikato, nearly 50 years after the first plane rolled off production lines at Pacific Aerospace.
The 1000 aircraft were manufactured by four companies, representing eight models including: five manufactured by Pacific Aerospace – the P-750 XSTOL, CT-4, Cresco, Fletcher and Air Tourer, Alpha Aviation's Alpha 160A Trainer, Micro Aviation's Bantam B22 Microlight and Autoflight's Dominator Gyrocopter.
The largest manufacturer, Pacific Aerospace, holds the honour of achieving the 1000th aircraft with its latest P-750 XSTOL aircraft destined for export to South Africa.
Of the 1000 aircraft, Pacific Aerospace produced 627, Micro Aviation produced 333, Alpha Aviation produced 23 and Autoflight produced 17 gyrocopters.
Sealing of 650m runway
Hamilton International Airport's runway sealing in June last year opened the way for continual growth of airport traffic.
The $780,000 project was made possible by a $300,000 contribution by the WAIC.
Airport chief executive Chris Doak said having the grass runway sealed allowed the airport to better cater for traffic, particularly in general aviation.
Cluster chairman John Jones said sealing the runway removed a growth barrier for local aviation businesses.
The former grass runway had to be closed for months each year for maintenance.
Hamilton Aero Maintenance general manager and WAIC member Chris Evans said his business had benefited from the sealed runway and had made the airport a more attractive destination for small operators.
Aluminium heat treatment plant
Pacific Aerospace last year established an aluminium heat treatment plan with the help of the Waikato Aviation Industry Cluster.
WAIC provided 50 percent contribution of $50,000 to Pacific Aerospace to add heat treatment capabilities within the cluster, with half the plant's capacity available to other Waikato aircraft manufacturers.
Cluster chairman John Jones said plant had removed a 'major constraint' to the region's aviation sector.
'Heat treatment which strengthens and hardens metal is a critical step in the manufacture of aircraft and to have the available locally has been important in the growth of the industry,' John said.
Alf McLaughlin General Manager Production for Pacific Aerospace said the plant came about after demand for its P750 XSTOL 10seat utility aircraft exceeded the company's capability to produce, as it did not have a facility large enough to heat treat its larger components.
'In cooperation with the Waikato Aviation Cluster and New Zealand Trade and Enterprise, we identified an unused air furnace available for purchase. The new furnace is now fully commissioned and operating in our facilities and has the capacity to allow us to increase our production rate, while offering surplus capacity to the general aviation market in the Waikato and other areas of New Zealand,' Alf said.
Flair 2011
The Aviation Industry Cluster will host a comprehensive, three-day event, Flair, to showcase New Zealand's capability in aviation design, manufacturing and pilot training. 
Flair will be held at Te Kowhai airfield north of Hamilton from October 13 to 15.
Aviation Industry Cluster chairman John Jones said the main purpose of Flair is to stimulate growth, development and investment in New Zealand's aviation industry. 
'To that end, we'll have extensive information at Flair about the numerous investment opportunities available in our local industry.  Plus, we'll facilitate networking opportunities throughout the event, aimed at matching investors with local companies.'
The event will combine exhibitions with aircraft demonstrations and new product launches.  All aspects of the industry will be on display, including manufacturing, design, supply, materials, certification, space exploration and pilot training.