Photo: Tim Parker, founder and managing director of Cleanfuelz with the latest experimental model.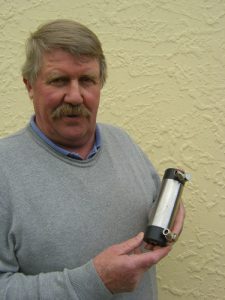 Did you know that most petrol engines only use 20% and diesels only use 40% of the fuel – and waste the rest as noxious exhaust fumes?
Cleanfuelz has been developing a solution to the problem of the inefficient burning of fuel in vehicle engines since 2008.
Their initial plan was to become the NZ distributor for American designed 'Hydrogen On Demand' products. However it was quickly established that the sample units were simply not robust enough and used a large amount of energy and often required major engine modifications to make them work.
Cleanfuelz decided to take a totally different approach, and after numerous designs, a university test confirmed that the Catalyser produced gasses that had a catalytic effect on the combustion of the fuel.
That is, introducing hydrogen into the fuel mixture increases the rate of combustion and means that nearly all the fuel is combusted. This results in lower noxious exhaust emissions (up to 90% reductions), while using only a small amount of energy.
This can also result in fuel savings and less wear and tear on the engine. However, we found that fuel savings for every vehicle are often different because this depends on a number of factors including the condition of the engine and how it is tuned or programmed.
The Catalyser can be installed on any type of vehicle using any type of hydrocarbon fuel. On bigger engines above six litres we usually suggest installing two units. We have seen remarkable improvements on petrol and diesel engines of 1500 CC up to 220HP in tractors. Vehicles can be your normal car or truck, or any off road vehicle like farm tractors, forklifts, heavy equipment, bulldozers, graders, diggers etc.
We believe the Catalyser has a life expectancy of at least 100,000 Km, however we have no Catalysers that have run for this distance yet; the accelerated bench tests are very promising so far.
The only maintenance required is to top up the Electrolyte every 3-5000Km. The results of fuel savings are attractive, but the biggest benefit may well be the cleaner emissions. Cleanfuelz has done tests before and after fitting a catalyser brought the status from non-compliance to well below the EU compliance level.
Exhaust emission testing in NZ is not mandatory – yet this may be changing soon. It was on the previous governmentÕs agenda. Most of Europe, North America and many Asian countries already have mandatory testing so it is just a matter of when, not if it happens in NZ.
Failing the emission test means your vehicle is off the road till it is fixed. In comparison, catalytic convertors can lose their effectiveness and replacing them with an original part is very expensive.
Cleanfuelz is now moving from early develop
ment and production phase into marketing and sales. We are creating a sales and installation network in NZ and with help from a NZ software and marketing company, Woogloo, we have a very powerful and sophisticated marketing tool with an impressive back-office system.
When the NZ market is up and running and we have met all possible challenges the plan is to move sales oversees.
Cleanfuelz wants to keep production here in NZ; at present imported materials are CNC machined and hand assembled. Once the production rate increases we plan to move into more economic production and assembly methods.
nextSTEP
Visit: www.Cleanfuelz.com.