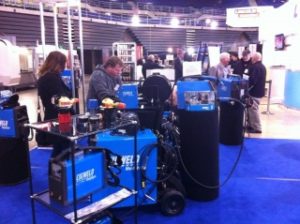 Picture: Busy times on the Cigweld stand at SouthMACH 2011.
By Doug Green
Reports in suggest some good business was done at SouthMACH 2011, which wound up today in Christchurch.
A worthy effort by the show organisers, Hayley Media who had to delay the show until now because of the earthquakes only to have the snow come down and trying weather occur.
Chris Whittington,from Camplex NZ was happy with the quality of business done, as was Francis Coutinho, general manager of Chevpac who noted some good quality enquiries.
One exhibit,who finally got through the snow was Gordon Anderson of BayCad who found enquiries a bit thin on the ground.
Carr Group of Auckland was one of the unfortunate companies not able to make it because of the weather. Their truck full of equipment was held up in the snow somewhere south of Waipukurau in Hawkes Bay and flights from Auckland for staff were cancelled three times. Enough was enough!
Attendance figures are still to be confirmed by the organisers.