Picture: Wood pellet plant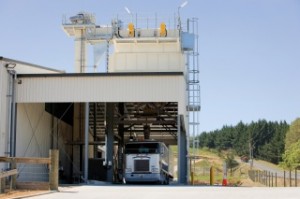 A major highway scheme and a world-first geothermal steam separation system are among Bay of Plenty finalists in the Innovate NZ Awards of Excellence 2011.
Organised by the Association of Consulting Engineers NZ (ACENZ), the Awards recognise innovation in consulting engineering both in the structures or processes developed and in the means of providing engineering services to the client.
Sinclair Knight Merz features for two BoP projects – for the many innovations used in the East Taupo Arterial (ETA) project, the 16.4 kilometre state highway bypass to reduce heavy vehicle traffic through Taupo, and for the Geothermal Steam Separation System at the $430m Nga Awa Purua power station at Rotokawa, Taupo.
Innovative measures on the ETA project, once of the largest road schemes ever completed in the central North Island, included a steel network arch bridge over the Waikato River which reduced impacts on the river and addressed iwi concerns about placement of piers in the waterway.
SKM was engineering designer for the Nga Awa Purua project, the largest single shaft geothermal steam separation system in the world, which provides enough electricity to power 140,000 homes.
Holmes Fire & Safety worked on the new NatureÍs Flame Taupo Pellet Manufacturing Facility project at Aratiatia Industrial Park north east of Taupo.
The company, established an internationally credible risk review and determined mitigation options for the major renewable energy project.
Aurecon came up with a solution for a dynamic Flow Remediation in High Demand Wastewater Manhole project which was part of an overall sewer rejuvenation for Tauranga City Council. The project involved improving the flow within a 30-year-old existing high-demand wastewater manhole located immediately downstream of a discharge rising main from one of TaurangaÍs major pump stations.