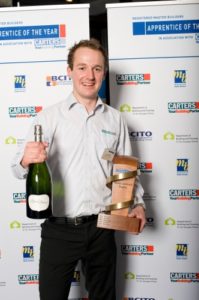 New Zealand's construction industry can be certain that its future is in safe hands judging by the talent celebrated at an awards evening held in Wellington .
Dunedin apprentice Ryan Keogh 22 (left) , was named the Registered Master Builders Carters 2011 Apprentice of the Year after competing alongside 10 national finalists from up and down New Zealand.
Second place was awarded to Matt Saathof, 21, of Hastings who is employed by Gemco Construction in Havelock North. Twenty-year-old Tom Storey, employed by Simon Linton Construction Ltd in Ohope, took out third place.
The competition judges said winner Ryan Keogh, employed by Naylor Love Construction Ltd in Dunedin and trained by the Building and Construction Industry Training Organisation (BCITO), performed consistently across the competition.
The awards event was held at Wellington;s Te Wharewaka and was attended by the apprentices and their families, key representatives from the building and construction industry, 2010 Apprentice of the Year Isaac Alder and guest MC Te Radar.