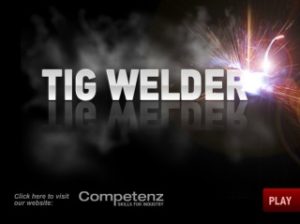 Finding skilled workers is set to prove a challenge for engineering companies. To meet supply, a new and innovative approach is needed to attract our youth into vocational careers.
One solution is to introduce gaming simulations to students before they leave school. Gaming and school work are not usually two activities you would associate together – but gaming is increasingly making a presence in schools as the new way to engage and educate.
Coined 'edutainment' – combining education and entertainment – TIG Welder – Welding Wall of Death is a welding simulation game which teaches and inspires, but is also fun.
The game was developed by Competenz, the industry training organisation for the manufacturing and engineering sector, and is available to play in Flash and as an iPhone-application.
It supports the bid to increase the supply of tradespeople by exposing students to what a career in the welding trade entails.
In the game, players simulate a series of TIG (tungsten inert gas) welds with the aim to join together a steel wall, strong enough to protect from a deadly swinging demolition ball.
A quiz is embedded throughout the game, ensuring students learn as they play.
While it's not exactly The Sims, the game is scored on an accuracy basis and requires a fair amount of skill to weld to a standard worthy of a high score.
Welding is one of the key trades experiencing skill shortages. Currently 444 welding/fabrication apprentices are in training on-the-job in engineering companies nationwide, but industry has said it needs 1,412 more welders/fabrication in the next two years.
Becoming trade qualified takes up to four years, so supply and demand is at a sizeable imbalance.
TIG Welder is set to roll out in schools early next year and online from late October. It not only promotes trade careers but also educates students about key welding concepts relevant to their course curriculum.
Competenz supports students' learning through the Tools4Work mechanical engineering assessment resources it produces. The Tools4Work resources help more than 400 teachers nationwide to prepare students for a rewarding and productive career in industry.
Students are taught valuable lessons by breaking the 'rules' of the simulation. For instance, failure to put your helmet's visor down results in the message "you have been blinded!" – an extremely relevant health and safety concern for a welder in an actual, non-virtual situation. The aim of the game is to capture the imagination of young career seekers and to increase the amount of 'fresh blood' entering into trade training. Competenz already has plans for more games to promote trade careers within the industries it serves. Trades attract those interested in hands-on careers, so it's only logical that the way to learn about these trades takes the same approach.
nextSTEP
Visit www.competenz.org.nz