Carl Lunt (left) with Grant Pedersen and some of Dotmar's manufactured products.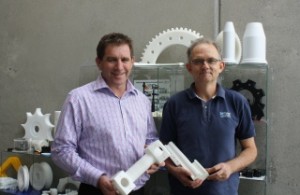 Dotmar Engineering Plastics in Auckland's Mt Wellington industrial area – with other branches in Christchurch and Palmerston North — is part of a privately-held company which is truly a global giant in the supply and manufacture of game-changing thermoplastics.
They don't need to boast, because they are already the biggest in North America; second- biggest in Europe; and Australasia's biggest.
Then you add the ability to buy the best European plastics and hand them to highly-skilled and experienced, long-term employees like technical manager, Grant Pedersen, and the rest equals sustained success.
Customers seek them out for their product-knowledge, design skills, collaborative working relationships, the quality and precision of their manufacturing, and the knowledge they have the highest quality raw-materials Ð-sheet, rod and tube, almost exclusively of European origin – when they start. The results include uncontaminated – either on or in the thermoplastic — componentry for the local food and dairy industry; hard-wearing conveyor systems; specialist bearings and fittings for super yachts; seals for petro-chemical pipelines and PTFE, graphite-filled compressor-grade seals for compressors, amongst a zillion others.
The New Zealand operation also has a significant export trade in machined components to Australia, Mexico, the USA and India.
Which brings us to the headline. After supplying indirectly initially, Dotmar is now providing Swedish headquartered, Atlas Copco, directly with high-spec, compressor piston rings for their now-55-year-old Indian operation.
Carl Lunt, the local business manager explains: "Their compressors are part of a growing industry worldwide, the use of tankers to deliver gas to homes and factories, rather than by pipelines, which have a propensity to fail, when not properly maintained, and are sometimes subject to vandalism too.
"It goes without saying that compressors operate under extreme pressures and in this application are constantly being switched on and off. Some 80-percent of the costs of those oil-free piston compressors are 'running costs', .and the Atlas Copco expectation of 100-percent right first time operation is mirrored by Dotmar.
"Clearly Atlas Copco could get cheaper and more readily-available products in India, but after flying out and auditing our processes and systems, and being convinced of our ability to meet their quality and precision requirements, as well as their exacting delivery needs, their key people went away happy.
"It also helped that we have removed the need for the specialist parts to be hand-fitted, meaning Atlas Copco don't need a qualified technician on the other end to handle the change-out. Downtime is a particularly costly exercise in the tanker-based gas reticulation business," he says.
He and Pedersen believe this example demonstrates a growing move back to design, quality materials, precision engineering and a growing desire to take advantage of the move to thermoplastics in every walk-of-life.
"Increasingly, existing customers and new-comers want to discuss, upfront, their product needs and their search for alternatives. Our collective knowledge across our New Zealand operation, our colleagues across the globe and our first-class suppliers means that people are regarding us as an 'industry knowledge centre, not just a manufacture-to-order operation," he says.
'Functional replacement' is the term they use to describe the massive inroads thermoplastic is making globally.
"As the world develops and people are getting a better understanding of the quality, precision and robustness of our products, especially when their applications cannot afford to have fatigue or deterioration at certain temperatures, or a variation in strength, for example."
Surely there must be some weakness in their offering? Pedersen again: "We sometimes err by providing too-high a quality, which isn't really necessary."
Not a problem too many might have.