Robyn Robertson of Regional Business Partner Waikato and Matamata tentmaker Lindsay Tasker.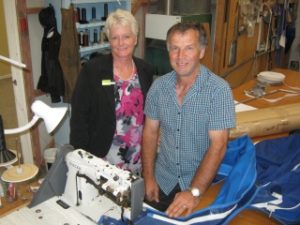 A Matamata tentmaker's dream of helping the world with his humanitarian housing is closer to reality thanks to Regional Business Partner (RBP) Waikato.
LTL Covers owner Lindsay Tasker has developed SeekaShelter tent prototype to use as emergency housing in the wake of natural disasters.
Born of LTL's successful Calf-Chalet shelter product, Lindsay and his wife and business partner Ellen are working with RBP towards distributing the housing product to governments around the globe.
The Tasker's SeekaShelter product is a 3m by 3.6m half-round tent assembled using a patented flexible join system and light-weight steel-based framing covered with double-skinned polyethylene.
The quickly-assembled shelter system has been tested in 120km winds and can house up to eight people.
"The next step in the journey is to have it tested by international aid agencies like the Red Cross. Regional Business Partner is helping me get it to that stage," Lindsay said
"RBP has helped me give my business vision a solid foundation. It has equipped me with the things I need to work towards to take the business to the next level."
RBP provides government-funded business support throughout Waikato and is managed by Opportunity Hamilton and Waikato Innovation Park. The free service is available throughout the region.
Lindsay's goal is for global governments to stockpile the tents = about 70 per shipping container = to use in the wake of natural disaster.
"This business is about much more than making money. As a Christian it is important for me to work towards making the world a better place and that is my vision," he said.
"Finding out about the support available, like RBP and James and Wells patent attorneys has been invaluable."
Lindsay bought the Kaitaia-based tent business after a camping trip in 1998 and relocated it to Matamata.
The business, originally manufacturing tents, turned over $50,000 in the first year since growing to $250,000 per annum with the help of new silage and calf shelter products.
The Calf-Chalet, retailing for $1900+gst, has hit the right note with farmers with 20 units snapped up at last year's Fieldays.