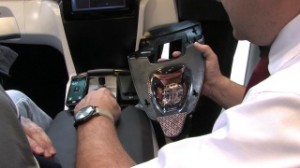 Sensitive surface touch panels
In the cockpit simulation at Fakuma trade fair stand, Engel demonstrated how cars will be even more user-friendly than smartphones in future, thanks to the simple elements of touch, feel and interactivity.
Capacitive electronics will be replacing buttons and switches in the cockpit of the future. "This trend not only gives interior designers a new level of freedom; it also reduces the costs of the producing functional elements," says Franz Fureder, Head of Engel Automotive. "We are already talking to various OEMs and automotive companies. In four to five years the first vehicles will be equipped with this technology."
Centre consoles with a sensitive surface were manufactured at the Engel trade fair stand on an Engel duo 350 injection moulding machine with a rotating platen and combination mould in stack technology. For this purpose a capacitive touchskin film was backmoulded and the component upper part was flow-coated with polyurethane by the Engel clearmelt method.
Two Engel viper 20 and viper 40 type linear robots took care of component and part handling enabling the ready-for-installation functional components to be manufactured in one work step.
 Clear-Melt technology
Scratch-proof, high quality surfaces combined with 3D effects visibly impress, hanks to Engels's innovative clearmelt method.
Decor parts with these characteristics can now be produced in a time-saving, economic and highly productive manner. Sliding table technology floods a thermoplastic carrier with transparent polyurethane. Compared to legacy methods, the required level of scratch resilience and 3D effect is achieved with thin coatings using the clearmelt approach.
Compared with coating systems, this means substantial material, time and emission savings. Time consuming and expensive multiple coating techniques, which also produce a high level of rejects, are incapable of producing an attractive 3D effect below a coating thickness of 0.5 mm. In contrast to this, clearmelt achieves visually impressive effects on decor parts using back-injected foils as a carrier. This makes panels in vehicle interiors real eye catchers. This technology will shed new light on the world in the future.
The reason for this is that ENGEL clearmelt also supports overlaid carriers with integrated circuits which are comprehensively protected by a layer of PUR sufficiently thin to support easy actuation.
nextSTEP
Visit: www.techspanonline.com