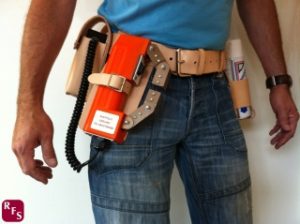 Johnson and Allen's provide, for the first time, a fully self contained AC Field output; offering an excellent "skin effect" which out-performs existing DC portable units in defect detection.
The Jay-Pac or Jaysn-Pac utilises the all new AC-Eazy powerbelt. The AC-Eazy powerbelt can be ordered alone if you have an existing 110volt electromagnet, or as the complete kit with the preferred Jay or Jayson yokes.
The system uses a high powered lightweight Lithium battery (only 1.250kg) to power the custom-built design of wave form generator.
The AC-Eazy powerbelt is made of thick, high quality leather, and also comes as standard with Aerosol holsters and a holder for the electromagnet giving both hands free.
Extra aerosol holders and a leather accessory case can also be added. The system can power a "Jay" or the slightly lighter weight and longer reach "Jayson" electromagnets for a full day of typical inspection.