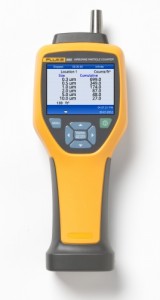 The Fluke 985 Particle Counter is a rugged, highly accurate meter that measures airborne particles to troubleshoot and monitor indoor air quality (IAQ).
The 985 is ideal for HVAC and IAQ professionals to verify clean room classifications and conduct HVAC filter testing and IAQ commissioning and investigations in hospitals, labs and other sensitive environments.
The Fluke 985 Particle Counter features:
* six particle size channels with a range of 0.3 µm Ð 10 µm, assuring accurate measurements
* rugged, ultra-lightweight, ergonomic design for easy single-hand operation
* in-device storage of 10,000 records for easy access to historical data
* ten hours of standard-use battery life to last a full workday.
The 985 has a large 8.89 centimetre (3.5 inch) QVGC colour display with backlight and intuitive icons plus a large font option for easy navigation and viewing.
It features configurable settings for the display, sample methods and sample size alarm. Data can be presented in traditional tabular or as a trend graph and exported to a USB memory stick or directly to a PC via a USB or Ethernet cable.
The meter meets ISO 21501, JIS B9921 and CE standards.
The 985 comes with a cradle for charging and USB and Ethernet communications, ENET CAT5E cable, USB-A to MINI-B cable, 12 VDC power supply, zero count inlet-filter, filter adapter, sample inlet protective cap, hard case, getting started manual and user manual CD.