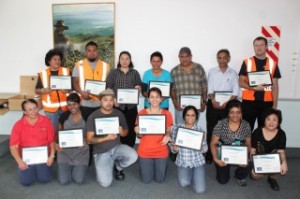 It's not easy for New Zealand manufacturers to compete against the lower costs of international firms. But where we can't compete financially, we can compete by building a highly productive workforce with a strong knowledge of lean principles.
And building a productive workforce was what Tru-Test Group, the world's leading manufacturer of livestock scales and milk metering equipment, set out to do.
In 2007, Tru-Test embarked on their lean journey through a continuous improvement programme known as TRACC.
Then in 2010, Competenz, the Manufacturing Industry Training Organisation (ITO), joined the party.
"We realised that what Competenz could bring was a nationally recognised qualification that aligned with TRACC and reflected the effort of every employee," says Jeff Tuffnell, Tru-Test training provider.
So to recognise this effort, Tru-Test held a graduation ceremony to celebrate the success of over 100 employees who achieved the National Certificate in Competitive Manufacturing, Level 2.
"Some workers have never had a formal education – yet they practise lean manufacturing every single day," says Fred Hanson, Tru-Test Manufacturing Manager. "They deserve to be recognised with a qualification."
When Tru-Test first started training, it was quickly discovered that a challenge employees were facing wasn't the how, but the what. "They weren't familiar with the terminology even though they know exactly what it entails," says Nick Fitzgerald, Polymers Accessories Team Leader. "So we took them through the factory floor and showed them how each term was actually part of their daily job – now they have a qualification to be proud of."
But investing in their people has not just meant a rise in staff morale, but the teams increased skills have filtered down to mean increased productivity – helping Tru-Test in their goal to become New Zealand's leading manufacturer.
"An improved team culture has seen our workers actively looking for waste and thinking of ways to eliminate it – they're working towards a common goal now," says Rosemary Song, Mover's TRACC work group Team Leader.
"The results have been amazing, our electronic circuit changeover used to take two hours, now it's only ten minutes!"
Products that used to have two days of manufacturing lead time now only take two hours, and the factory floor has reduced by half, while maintaining the same output efficiency.
And Tru-Test isn't stopping here. Already, plans are underway for further training in core competitive manufacturing skills and more health and safety now that all staff have passed the Level 2 threshold.
"Tru-Test has a true passion for New Zealand manufacturing," says Fred, "and we've proven that we can compete globally in more than just niche products – commodity products are not a problem when we have well trained staff."