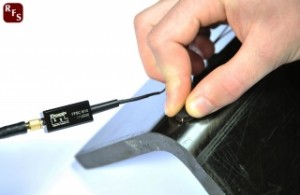 A new flexible ultrasonic transducer which can squeeze into corners and conform to curved surfaces is set to revolutionise the inspection of composites and components with complex geometries.
The Flex transducer series has already proved a success during trials within the aerospace sector, where composite materials are commonplace.
The transducer is made of a thin but durable piezo-electric material that is soft enough to bend and can be shaped to suit curved geometry.
By using a soft backing layer, the flexibility of the crystal is retained. At around 3mm high, Flex transducers are low profile.
The Flex transducer series include single element (FFSC), dual element (FFTC), composite single element (CFFSC), and composite dual element (CFFTC) variations. Standard Flex transducers are 5MHz or 10MHz at sizes of 6mm, 10mm, 15mm and 20mm diameter. They can be used with any standard ultrasonic instrument.