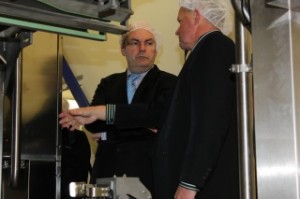 PIC CAP: Minister Steven Joyce views the Technopak's world-first packing technology inside the NZ Food Innovation Waikato plant; Dave Shute, Plant Manager (L) providing an explanation.
Hamilton, New Zealand – Economic Development and Science and Innovation Minister, Steven Joyce, joined 100 invited guests today at the Waikato Innovation Park to officially open its new spray dryer facility, New Zealand Food Innovation Waikato.
The $11 million product development spray dryer facility is the only one of its type in New Zealand and is the Waikato component of the Government-sponsored New Zealand Food Innovation Network. Finance for the spray dryer came from Innovation Waikato Ltd debt and a Government grant of $3.95 million. Its capacity is one-half tonne/hour, making it one of the smallest commercial spray dryers in the world.
Construction of the facility was completed in late April 2012 and took just eight months to take it from a bare paddock to a fully operational plant. Commissioning and testing was completed over the past month, with the first fresh milk converted to powder on 25 May.
Fifteen Waikato companies have contributed to the project.