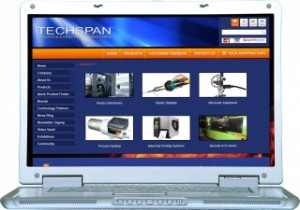 Plastics and Printing Technologies supplier Techspan Group, have just released their new and improved e-commerce website for online shopping:
The new Techspan Group e-commerce website is now live. The website has just undergone a facelift and been redesigned with simple navigation access to all products.
Five product groups:
• Plastics Machinery
• Plastic Welding
• Ultrasonic Equipment
• Process Heating Equipment
• Industrial Printing Systems
The new website (v.05) has a similar look and feel to the previous site, but with refined & improved features, more colour and a user friendly online shopping cart.
The new website is easier and quicker to navigate to find what you are looking for.
The 'Quick Product Finder' helps customers who know the product codes, to locate the product quickly. Just enter the product code and click 'find'.
The latest in high level 3D security authentication systems are employed for the highest level of privacy and security when paying online. The secure e-commerce functionality provides delivery times, prices, and enables customers to order and pay on-line. The site is also 'customer account' friendly and enables ordering by existing account holders on via their usual credit account.
Up-to-date News items can also be viewed. Everything from advice about an upcoming event, new technologies or processes, company news, facts, and even Technical Tips can be found. A YouTube widget allows site access to all our our Youtube video uploads, featuring the latest video uploads. Social networking links are also provided for sharing interesting information with friends.
Product information, datasheets, operation manuals, parts listings, videos, and MSDS sheets are all available on the new site. You can even view a staff profile and learn more about our team.
The new site has already provided impressive results with online purchases, in New Zealand and in Australia. Much of the work developing the site has been done by the companies own skilled staff & marketing team.
Techspan Group is still a 100% privately owned New Zealand company – established January 1979. The group consists of four companies covering Plastics & Printing Technologies with warehousing situated in both Auckland New Zealand and Sydney Australia.
Techspan supply high technology plastics machinery, industrial printing technology industrial ultrasonic equipment, process heating equipment and plastic welding systems – European manufactured, highest quality products at very competitive prices.
www.techspanonline.com