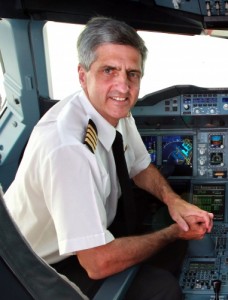 Richard de Crespigny, the Australian pilot in command who saved the lives of 469 Qantas passengers on flight QF32 on November 4 2010 after its engine exploded mid-flight, will speak at the Aviation Industry Association awards banquet in Rotorua on Thursday, 9 August.
The Aviation Industry Association (AIA) has issued an open invitation to the public to join its members for this special event.
Captain de Crespigny's New Zealand book launch will take place at the dinner. The book, entitled QF32, provides a vivid account of the harrowing incident. Following the dinner, the Captain will be available to speak with guests and sign books.
On that fateful day, Captain de Crespigny had dead-headed to Singapore from Sydney to take control of the continuation of QF32 (London to Sydney). In mid-flight, one of the aircraft's engines exploded, setting off a chain reaction of technical failures that created a critical emergency situation.
On top of ensuring that 469 passengers remained calm during the ordeal, Richard had a mammoth battle on the flight deck to keep the aircraft in the air and get it back on the ground.
For two hours he and his fellow crew remained calm as they planned how to stabilise the damage, configure the overweight aircraft, manoeuvre it toward Changi Airport in Singapore and eventually land it safely.
"My account in the book contains important messages regarding teamwork, problem solving, judgement, knowledge, experience and putting years of highly-skilled training into practice. I also cover the after-effects of this hugely pivotal event and how my life has changed forever.
"At the AIA dinner, I will talk through the incident, what I've learned as a result and how it's affected me personally," explains Captain de Crespigny.
QF32 carries endorsements from astronaut Neil Armstrong and Captain Chesley (Sully) Sullenberger, who successfully landed US Airways flight 1549 in the Hudson River.
Irene King, Chief Executive of the AIA says she, "personally heard Richard speak last year, which was the catalyst to our determination to bring him to New Zealand. His story is inspirational and tells of some very salutary lessons about the interaction between technology and people.
"The A380 is, arguably, the most advanced passenger aircraft operating in our skies today and it still took every inch of skill and airmanship to guide the aircraft back to safety."
Getting the A380 aircraft up and flying again has been attributed, in part, to a group of Kiwi companies, led by Metal Tech Engineering of Hamilton.
Following the incident, several New Zealand companies were called in, at short notice, to manufacture the tools and dies required to remove the damaged engine from the aircraft so that it could be repaired and refitted. Following Captain de Crespigny's talk, a representative from Metal Tech Engineering will provide a short account of the companies' roles in the retrofitting and repair process.