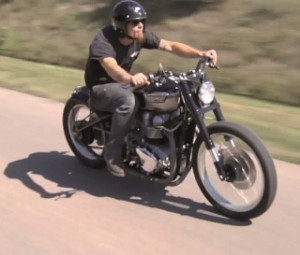 Thanks to FeatureCAM feature-based CAM system, Jeremy Cupp, owner of LC Fabrications, is able to combine his two passions – motorcycles and machining = into a successful business. The software makes it quicker and easier to experiment with novel designs, and gives high-quality parts.
LC Fabrication was born in the corner of a machine shop.. Inspired by the craftsmanship of an era gone by, Mr. Cupp founded his business to keep his passion alive for motorcycles and machines. The company specialises in parts for Sportsters and modern Triumphs but also has the ability to undertake machining projects and custom fabrication work.
Originally, all of the components were produced in the old-fashioned way, using manual machining, belt sanders, grinders and similar equipment. Despite some early successes, Mr. Cupp regularly found himself thinking "Wouldn't it be cool if we could do this?" or "Something like that would be really nice."
The change came after he attended a free training course on FeatureCAM at the nearby Blue Ridge Community College. "I went over, took the course and realised it was definitely a good investment," he remembered.
"The big advantage of FeatureCAM is that now I can come up with a concept in my head and get an idea of what it will look like on the screen. Before, I could spend a half a day making the part and then decide I didn't like it and throw it in the trash can. I've been riding motorcycles and fabricating all my life, and I just like to try things and see if they work. The software saves a lot of expense that way," he said.
"FeatureCAM has also drastically reduced the time it takes me to make a part," he added. "I can go from a concept to a finished part in one afternoon now, whereas it used to take me several days."
"The biggest challenge on a motorcycle is keeping it beautiful and yet functional all at the same time. A motorcycle ultimately is to be ridden up inner-state highways so you've always got to have a safety aspect in mind. I like to do things as I go when I'm working on a motorcycle and I see something that I need, I kind of dream it up in my brain. With FeatureCAM, I can sit down and virtually machine it right away, and make changes any to it if it isn't what I imagined."
"FeatureCAM has allowed me to create designs that otherwise were just a kind of a dream floating in the air. Plus, I can program, set-up and run a job in a day that used to take several days just to get the first part made."
Mr Cupp has always tried to not fit the mould of the typical custom bike-builder, and regards FeatureCAM as a good tool to allow him to maintain his individuality and achieve success he thought was'Òunbelievable'.