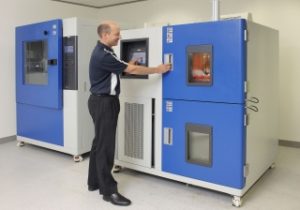 An advanced environmental test laboratory has been established to ensure lighting and Projecta battery products are safe, durable and meet the latest regulations.
The new laboratory is equipped with the latest test rigs, including a High/Low Humidity Test Chamber, Thermal Shock Test Chamber, Rain Simulation Chamber and a Dust Test Chamber, which have been designed to meet and exceed the most stringent tests required by international vehicle and equipment manufacturers and to ensure total product reliability.
The new division will take an active role in looking at product lifetime costs, with accelerated aging tests among many other tests, ensuring long-term product durability and reliability that is important to both the industry and customers.
Internal product development engineers and industrial designers, plus international suppliers ensure all products are completely suited to the harsh environments encountered in this part of the world and to ensure they are fit for purpose.
With temperature ranges beyond the automotive industry requirements, tests such as High/Low temperature performance, temperature/humidity cycles testing, condensation, material durability as well as PCB solder joint durability, adhesive bonding, rain exposure and car wash tests, dust exposure plus shock and impact tests are now in process.
The new testing laboratory is the latest step in further lifting the performance of Nava and Project products.
The company has also set up a fully equipped automotive photometric and optical laboratory that is regarded as one of the most advanced in the South Pacific region, together with the latest fully equipped research and development department. These new testing facilities will ensure those products continue to meet the expectations of customers operating in a variety of demanding environments and work places.