PIC:Kathy Tasker contract manufacturing.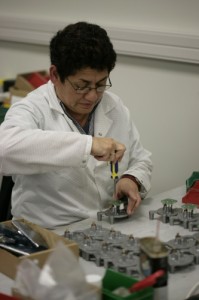 This is the first article in a series on Contract Manufacturing.
 What does your company contract manufacture?
A wide range of items across the power, marine, agriculture and military industries. Being an ISO 9001:2008 certified manufacturer, we have the in house capabilities for many other industries.
What type of work are you looking to attract?
Manufacture of electrical assemblies and products. Specifically we have a proven track record for external equipment in harsh environments.
A full range of production services are available – from simple assembly and test work (where customers provide all components) through to turnkey systems involving procurement, manufacture, warehousing and technical support.
What sort of expertise do you have available?
Our skilled engineering staff has extensive experience with PC-based POS systems, EFTPOS terminals, telecommunications and security systems, metering and metrology, diagnostics, mechanical design and housing. We offer assistance and advice in securing standards approvals for your product.
We have a full range of storage, warehousing and computerised inventory management services which include sourcing, importing and customs clearance services. We offer seamless shipping/exporting of product or spares and can ship directly to your customers or distributors.
Technical assistance with obsolete or end-of-life component issues and fast prototyping services are available. We currently have high value supply accounts with international suppliers and distributors and an international purchasing network (for difficult to find components), give our customers access to competitively sourced component requirements.
The ability to maximise on the purchasing power of the Gallagher Group is just one of the many benefits to using our contract manufacturing services.
What type of equipment do you use?
Plated Through Hole and Surface Mount Technology production lines including:
Reduction of Hazardous Substances (ROHS) and Ball Grid Array (BGA) capabilities
X-ray
Plastics – 5 axis mill
Are there any individuals involved/their expertise that deserve a mention?
Haydon Rowe is Gallagher's in-house Certified IPC trainer.
 Are you interested in attracting work from overseas?
Yes Australia would be a bonus, but predominantly from New Zealand.