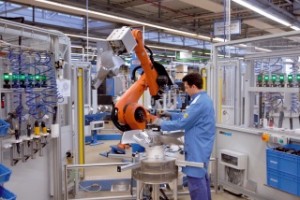 Job Destruction is the title given to a category by Department of Statistics when they record job losses around the country. On the positive side, they also have a category called Job Creation.
When we look at their statistics we see that (for example) Northland lost 290 jobs in manufacturing in June 2011, Waikato 1,140, Bay of Plenty 700, Gisborne/Hawke's Bay 760, Taranaki/Manawatu/Wanganui 1,450, Tasman/Nelson 380,Canterbury 3,550, Otago 610 and Auckland3, 320.
Between the March and June Quarters of that year, there were ten percent more people made redundant – 11,790 to 12,880.
There is so much debate and analysis in this small country as to where manufacturing is going. And the subject matter being considered to make business conditions better are far-reaching,…and not finding jobs for people in the Manufacturing Heartland is but one of them.
For example:
The Australian and New Zealand Productivity Commissions are looking at what economic integration between the two countries might mean. Do we become a mini EU – and what happens if one of the two countries goes belly up – can the other financially support it?
The Treasury is asking for ideas that can be undertaken by the New Zealand Productivity Commission to improve productivity.
Youth unemployment is a major concern and regions like the Waikato are presently looking at a 'lost generation' with twenty percent of young people currently without work.
The exchange rate. To tinker with it, to not tinker with it NZMEA has one view, EMA another.
A change to Trans-Tasman tax laws.
The over valued dollar which is seeing people made redundant from companies such as Solid Energy, Tiwai Point aluminium, Mussel Processors Ltd and Norse Skog. Plus Goodman Fielder reducing the number of its manufacturing factories.
A reduction is needed in company tax rates. Australia is looking to do this and there is also discussion in the USA.
None of these serious issues are giving comfort to the people of the Manufacturing Heartland who are struggling to find work.
We don't want a mindset here which is occurring in Ohio, USA where the best some workers can earn is $US10 an hour. They struggle to pay their bills and are at the mercy of stakeholders who want more money (for their investment) or worsening economic conditions, partly based on outsourcing of work to Asia manufacturers.
These people do not expect to have it good any more. And we have the same situation here. A minimum wage earned for a decent days job…and the cost of everything keeps going up.
A group which met in Auckland recently considered a living minimum wage. They settled on $18-$20 an hour for workers. So you can see just how far workers have slipped behind…and why they continue to go to Australia.
It is not enough for well-meaning organisations to put their heads together, form a scrum and come up with a formula which does not show an apparent change (for the good) in the plight of the manufacturers in the Manufacturing Heartland and those people who are looking for work.
If the amount of money invested in sport was invested in manufacturing then more businesses would open up. What if the monopoly sport (take rugby) has was reduced, less games were played and less demand was made on the business owner and the spectator to keep lining the pockets of the associations wouldn't we be better off?
Sport is successful as business. Not everyone benefits and in these difficult economic times wouldn't it be appropriate to bring back a more amateur element so less outlay caused less pressure on people?
Sport in its true amateur tradition brings a more relaxed approach to the game.
But the problem is, in the Manufacturing Heartland, if sport were amateur only, how would current paid players make a buck when the jobs aren't there? And besides organisations like Sky are so entrenched in their method that a really large wrench would be needed to turn things around
Some sports people are better off in these times than workers. They are talented, they are good, they succeed. They bring pleasure, they help us relax…but they are not always worth all the money.
Manufacturing need not go to Asia as shown in the example of Victoria winning a $200 million Chinese cable contract that will help create 200 manufacturing jobs. Anhui Joy Sense Cable plans to set up a new base in Melbourne.
We need these scenarios to happen here too so we continue to grow our manufacturing base.
 Talk to us
We want manufacturers to talk to us. You don't have to agree with what we are saying – tell us how business in the Manufacturing Heartland is for you. Don't hold back, don't throw your punches, get it off your chest and share your ideas and concerns with other manufacturers and businesses who are looking for answers…just like you.
We will publish what's on your mind and all readers are welcome to share experiences and frustrations too. Give their advice, make suggestions, show how a difficult situation can be made better.
The country is at a crossroads. Indications are that we are stagnant and for the next three years we aren't going anywhere fast.
Let's do something about it!