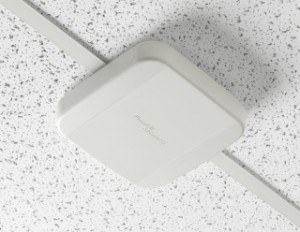 A new dedicated sensor for Wi-Fi network monitoring that eliminates the need for Ethernet cabling, and reduces the cost by up to two thirds in situations where cable installation is restricted from a time, cost or logistics perspective.
With its quick and easy installation, three internal radios and Wireless Connect feature, the SmartEdge Sensor Series 4 for AirMagnet Enterprise extends Wi-Fi security and performance monitoring, providing immediate coverage in the face of explosive wireless LAN (WLAN) and the Bring-Your-Own-Device (BYOD) growth.
For customers where Ethernet cable is already available or not cost restricted to install, the new SmartEdge Sensor can leverage its internal radios (two 802.11n 3×3 MIMO 450 Mbps plus one for dedicated spectrum analysis) for 24×7 security monitoring, scanning and rogue detection, combined with client performance verification via AirMagnet Enterprise's Automated Health Check (AHC) feature.
AHC proactively tests and verifies WLAN network health from the end-user device all the way to the cloud and identifies issues before they impact the organisation.
In addition, the SmartEdge sensor has been completely redesigned with a 'fade-into-the background' enclosure, an integrated drop ceiling mount and recessed cable entry. The sensor also features increased memory capacity and support for 10/100/1000 Mbps Ethernet.