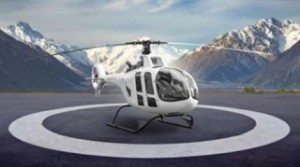 Composite Helicopter's has unveiled a revolutionary helicopter that is light, durable and can be built in record time.The fuselage, main rotor blades and tail rotor blades are made entirely of carbon fibre composites.
The helicopter uses the same carbon fibre technology that is found in America's Cup racing boats, high end sports equipment and new aircraft such as Boeing's 787 Dreamliner.
The five-to-six seat helicopter is relatively quick and easy to put together.
Composite Helicopter's innovation was showcased recently at Oshkosh in Wisconsin, the world's biggest aviation expo, where New Zealand had the largest country pavilion.
Before the show, pre-publicity in New Zealand led to seven orders and the company returned with 14 more and potential for another 48 through dealership enquiries.
There was also keen interest shown by established helicopter manufacturers such as Bell and Sikorsky and approaches from two Chinese companies wanting to buy the Kiwi company or form a joint venture.
With each helicopter selling at around NZ$530,000 Composite Helicopters already has potential sales worth more than NZ$50 million. It currently has two prototypes, both of which were built just north of Auckland.
Once commercialised, the helicopter will contribute to the New Zealand aviation sector's drive to add NZ$15 billion to the economy each year.