Apprentice Simon Imlig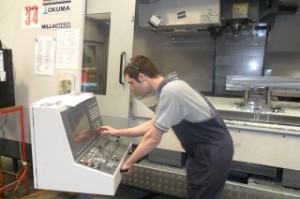 Over its 50-year history, Rotorua-based Hayes International has always had a strong commitment to training apprentices. The company firmly believes they get back much more than they put in to apprentices and wouldn't have grown to where they are today without them.
This world-leading roll-forming machinery designer and manufacturer has machinery operating in 77 countries, and that number is growing. "As our export markets expand, it places greater demands on management," says Marion Clarricoats, Human Resources Manager at Hayes. "And that means it's harder for us to manage our apprentices. Plus, the cost of managing apprentices is reasonably high, in terms of resources, time and having a senior staff member mentor them instead of being productive."
One option to reduce the time committed to apprentices is by choosing not to employ or manage them. Instead, ATNZ, New Zealand's largest employer of mechanical engineering apprentices, employs the apprentice and seconds them to work at Hayes.
"Four of our apprentices are employed and managed by ATNZ. It removes a lot of the admin and paper work from the company so we can focus on core business. The account manager supports the apprentice from the get-go and keeps the apprentice on track with what they need to be achieving.
"I like the transparency of the account managers. They are very open, very knowledgeable, and I know what needs to be done, is done. They always pop by my office when they have visited an apprentice so I'm in the loop.
"And sometimes an apprentice will slack off or their focus will drift. Rather than their supervisor giving them a talk, often it's better if someone outside the company is the one to say "you need to pick up your level. They listen."
As a company with growing exports Hayes needs new apprentices to cope with production capacity and as a form of succession planning. "While our workforce is very stable, some tradesmen choose to move on or work overseas when they qualify and have worked for a few years. Others will eventually retire, so we need new people coming through. Plus, with New Zealand's skills shortage, Hayes believes because we have the capacity to train, we should. We should be doing our part."