The invention is one of five on the Society of Manufacturing's 2013 List of Innovations that could change the way you manufacture.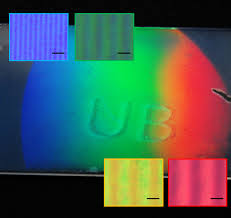 An easy-to-make rainbow filter that could help users identify the true color of everything from paint to medicine has been named to the Society of Manufacturing Engineers (SME) list of 2013 Innovations that could change the way you manufacture.
This year's list includes just five items: a technique for mass producing robotic insects and other devices; super-water-repellant coatings; stronger, lighter carbon nanotubes; a more efficient welding process; and the UB invention — an "everyday spectrometer."
The technology is a rainbow-colored polymer that UB engineers created using a one-step, low-cost holographic lithography method. Employed as a filter for light, this polymer could form the basis of handheld multispectral imaging devices that identify objects' "true colour."
Such accurate color detection could make it easier for governments to identify counterfeit money, for homeowners to match paint colors in renovation projects, and for doctors to analyse colo-urs in medical images to detect disease. There are potential applications in fields from climate monitoring to remote sensing for military and defense.
Visit the following link for a video the technology:https://www.youtube.com/watch?v=xF2d2wUf0Gg
The simple process for fabricating the polymer could make it feasible to develop small, low-cost, high-performance devices that connect with cell phones to conduct multispectral imaging. In addition, the filters can be produced at less than $US10 apiece, making them a viable, state-of-the-art alternative to the much more expensive linear variable filters that are currently used for spectral analyses.
The UB researchers who led efforts to develop the technology are Alexander N. Cartwright, PhD, professor of electrical engineering and biomedical engineering and UB vice president for research and economic development, and Qiaoqiang Gan, PhD, assistant professor of electrical engineering. Both are members of UB's New York State Center of Excellence in Materials Informatics.
"The ability to identify colours much more accurately is what makes our new technology so useful," Gan said. "An interesting fact about color is that the human naked eye cannot distinguish wavelengths but rather maps wavelengths, or combinations of wavelengths, to a specific color. For instance, we cannot tell the difference between a 'yellow' color with an optical wavelength of about 580 nanometers and a 'yellow' color that results from the mixing of two wavelengths at 540 nanometers and 650 nanometers, respectively."
"We are honored to be included on the Society of Manufacturing Engineers' list of game-changing technologies," Cartwright said. "The list highlights inventions that can help manufacturers cut costs and develop innovative products, and our selection demonstrates the potential that materials research has for stimulating innovation in manufacturing."
Cartwright and Gan are working with UB's Office of Science, Technology Transfer and Economic Outreach (STOR) to bring the rainbow polymer to the market.
The university has filed a patent application to protect the technology and, in 2012, the research team received a SUNY Technology Accelerator Fund award to further develop the rainbow polymer for commercial purposes.
Gan began working on the rainbow polymer after he joined UB in 2011, becoming a lead partner in the research, which Cartwright had earlier launched. The collaboration between the two demonstrates the type of relationship UB is working to foster between recent hires and veteran faculty members. Through the UB 2020 long-range planning initiative, the university has recruited extraordinary young professors — like Gan — whose skills enhance and complement the university's existing research capabilities.
The Innovations That Could Change the Way You Manufacture will be a featured session at the SME Annual Conference in June in Baltimore, Md. The conference brings together manufacturing professionals and leaders from throughout North America and beyond who are interested in innovations and exchanging ideas in one place.