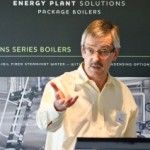 Business commentator Rod Oram explained how energy efficiency can fuel business innovation and growth at an EECA Business process heat workshop, held recently in Auckland.
Consuming energy worth more than $2 billion dollars every year, process heat systems (furnaces, boilers and ovens) are used in most industries – from bread making to milk powder production, and timber processing.
EECA Business Project Manager Pramesh Maharaj says improved process heat systems efficiency is one of the biggest opportunities for New Zealand manufacturers to make cost savings, increase productivity and enhance green credentials.
"The workshop was a great success. Having more than 50 process heat users and energy efficiency experts sharing their experiences and knowledge really helped raise awareness of the opportunities in process heat.
"Participants particularly enjoyed hearing Rod Oram explain how process heat energy efficiency connects to the big picture for the national economy," he said.
Rod Oram also spoke about the critical need for senior level executives, particularly CEOs and CFOs, to make energy efficiency a business priority.
The workshop included case study presentations from companies that have benefited from improved process heat efficiency.
Highlights included wood processor Nelson Pine, that saved more than $2.5 million in two years through improved process efficiency and reduced heat wastage; and Energy Plant Solutions, which recently installed a 95% efficient boiler and heat recovery system for a new milk powder near Balclutha.
Pramesh Maharaj says EECA Business expects to hold similar workshops over the coming months.
EECA Business has grants available to assist businesses put six-monthly boiler tune-up regimes in place. Up to 40% of the cost of a two-year tuning regime (maximum of $5,000 per site) is available for sites with total boiler capacity of 1.5 MWt or more. See www.eecabusiness.govt.nz/boiler-tuning-grants
There is part-funding towards base-level or investment-level energy audits of heat systems of 1.5MW or more and they may also help fund economic energy efficiency improvements to process heat systems.