(Pic) '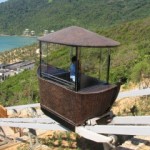 Nam Trams' a winner for Access Automation.
The general manager of Access Automation of the Hutt, Darin Phillips-Brown, shared with NZ Manufacturer the Solidtec software of choice his company uses in day by day operations.
 NZM: Which Solidtec software are you using?
AAL: We have two seats of SolidWorks 2013 (1 x premium and 1 x standard)
NZM: Why have you chosen this particular software?
AAL: We chose Solid Works as it seemed to be the mechanical design CAD software of choice. Its 3D modelling capabilities coupled with its ease of use have made it a key tool in our design office. As every project we do is bespoke to each client's site, we are able to model the entire cable car if required and check interferences on the screen rather than out on site.
NZM: Why have you chosen Solidtec?
AAL: We choose Solidtec, mainly because of the people but also because of what they offer. Their technical support and turnaround is great. We have also developed a relationship with the staff from sales through to tech support and they know and understand what we do.
NZM: How has the software made your company work better?
AAL: SolidWorks has allowed us to accurately complete a design with the confidence of knowing that everything will fit together and operate as intended once installed on site.
NZM: Is your company more efficient from using it?
AAL: We are definitely more efficient from material usage through FEA (finite element analysis) and reduced rework required on site.
*NZM: What applications is it used for?
AAL: We use SolidWorks for the following:
Product design
Sheet metal
Lasercut templates and flat patterns
R & D
Error and collision detection
FEA
We use it to model everything from structural steel work to fully enclosed custom cars and everything in between.
*NZM: Has it allowed your company to open up new markets?
AAL: It has definitely helped with us improving our designs and our portfolio of products. As a design tool it was integral with a large commercial project in Vietnam. It was also beneficial for a 3D visual interpretation of the client's requirements during tendering.
NZM: Is it Lean related?
AAL: We have seen some efficiencies through the use of SolidWorks however it would be hard to put a figure on it.
NZ: Has business increased?
AAL: We would have to say that SolidWorks has indirectly helped us increase business. The software has aided in improved design and production techniques.
NZM: Can you foresee more work coming in to your company?
AAL: Yes definitely. We are world leaders in our field. This was recently reaffirmed with our recent international award win of which we are extremely proud. We were the winner of the Elevator World Magazine Project of the Year 2013 for the Inclined Elevator category. We are currently ramping up our profile in Sydney and have recently tendered for some large commercial projects in Asia Pacific.
NZM: Do you export?
AAL: Yes, we currently export to Asia Pacific. Export markets would make up around 70-80% of our work
NZM: Do you contract manufacturer?
AAL: We design, manufacture and install our products. We are a small company and although we can make almost everything in house, by subcontracting some of our low IP work it allows us to expand for increased demand or large scale projects.