Quality Machine Tools will have two machines on display on their Stand 592 over the four days of Austech 2013, but they tell only part of the story for a machine tool supplier that has been serving the Australian manufacturing industry for nearly 20 years.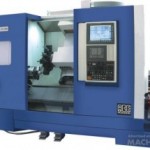 Quality Machine Tools offers solutions to any machining needs from practically any sector and is looking forward to discuss customers' requirements during the show.
 Expert engineers will be demonstrating the VTEC double-column machining centre model SF-2112, as well as a 4-axis CNC turn-mill centre from ACE Micromatic.
VTEC's SF series is a double column machining centre which is efficient and productive, reaching high metal removal rates. The machine is equipped with a high-speed spindle and high-repeatability linear guideways and provides excellent machining performance and surface smoothness through its 6000-rpm built-in spindle and 24m/min rapid traverse.
A 24,000-rpm spindle is also available. The machine features X- and Y-travels of up to 12,000mm and 5000mm respectively, a 32-tool magazine (40 tools as an option), and a stable light-weight table with a size of 2000mm x 1100mm and 4kg maximum load.
For 5-axis machining applications, all VTEC machines can be equipped with a range of automatic heads for various 5-sided machining applications. Moreover, the VTEC FA series is a 5-axis machining centre suitable for all 5-axis simultaneous machining applications.
All VTEC machines can be supplied with either Fanuc, Heidenhain or Siemens controllers.
Quality Machine Tools will also exhibit the Vantage McY 800 4-axis turn-mill centre with large Y-axis travel (130mm) from ACE Micromatic. The C and Y-axis are equipped with a 12-station Sauter/ Duplomatic tool turret, and the Fanuc 0i TD CNC ensures easy operation. Moreover, the machine features a turning diameter of 400mm with a turning length of 800mm. A parts catcher and tool measuring eye are also available.
The Melbourne-based machine tool supplier has been representing the ACE Micromatic Group for nearly 17 years now, offering a wide range of slant bed CNC lathes with 2-axis to multi-axis configurations, CNC vertical machining centres and CNC cylindrical grinders.
Quality Machine Tools' products and service satisfy the requirements of precision engineers, tool- and die makers,