The Interview
Auckland company, Ignition Networks, is using Solidworks. NZ Manufacturer asked some questions recently about how its all going:
NZM: Which Solidtech software are you using?
IN: Solidworks Professional 2013 x64
 NZM: Why have you chosen this particular software?
IN: We have chosen Solidworks because it is a standout leader in 3D CAD and meets all our current and, at this stage, future requirements.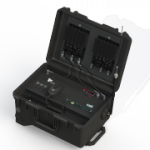 NZM: How has the software made your company work better?
IN: We are able to get our designs drawn up with more speed and accuracy, and with more confidence that the end product is going to be right. The ability to do reasonably realistic renderings with a few mouse clicks has meant we can give our customers a more realistic picture of what the product could look like, and make any changes to it, before we manufacture anything.
 NZM: Is your company more efficient from using it?
IN: Yes. We previously had spent many days re-drawing work that our last CADsoftware was corrupting. Very frustrating having spent many hours completing a complex assembly only to have the software 'forget' where everything was placed and making things up the next time the assembly was opened for any re-work, this happened on numerous occasions and was a driving factor in upgrading.
The use of decals for visualising where plugs/lights/displays etc are on a part have decreased the time required to get the level of detail we need when modelling a part. Making cable routing and part positioning more accurate in the design stage.
Smart components have dramatically decreased our panel design time. Previously the work was very tedious and required considerable effort in checking and re-checking mounting holes and panel cuts were all correct. Now we can setup one part, make it a smart component, and then let the software do the work.
The time needed to go from 3D part to manufacturing drawings has been greatly reduced with Solidworks
 NZM: What applications is it used for?
IN: Sheet metal design for portable communications and networking solutions
 NZM: Has it allowed your company to open up new markets?
IN: Not yet.
 NZM: Is it Lean related?
IN: Yes. Not intentionally, but it certainly has made our workflow considerably more efficient.
 NZM : Has business increased?
IN: All of our business comes through word of mouth, but we have been able to offer new options like detailed rendering, and in the future we will look at creating detailed manuals with Solidworks
 NZM: Can you foresee more work coming in to your company?
IN: Yes
NZM: Do you export?
IN: Not at this stage however we are working on export plans
 NZM: Do you contract manufacturer?
IN:No