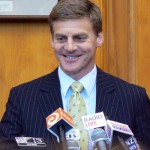 On Thursday treasurer Bill English is presenting the 2013 Budget for New Zealand.
What would you, a manufacturer, a businessman, like to see included in the Budget to make business better?
Are there more business incentives needed, tax breaks, assistance for exporters, greater access for R & D?
Send me your ideas and I will publish them and share your vision with other NZ business people.
The most incisive comment will receive a Company Profile in NZ Manufacturer and a 50% subscription discount for 12 months.
Write now, get in quick…let's do the Business Budget that Bill wont do!