A comprehensive range of Free-Form Headlamp conversion kits allow owners to upgrade the lighting on their work vehicles, or for use in new applications.
Free-Form technology utilises a specially designed and complex reflector to precisely control the light. In each case, the reflector has an important relationship with the globe filament to maximise the light output and pattern of light on the road.
Because of the precise design of the reflectors within each headlamp unit it is critical to the lamps performance that only E approved globes are used.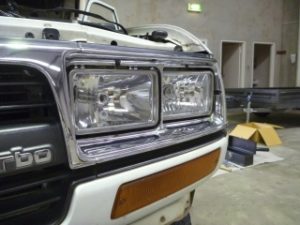 The new range of Free-Form Headlamp conversion kits covers all popular round and rectangular sizes used in many vehicles, from utes and SUVs to trucks and buses.
The smaller round and rectangular lamps are each fitted with a glass lens with no optic function itself. Larger rectangular units such as the 200 x 142mm and the 7 round headlamp inserts each have virtually unbreakable polycarbonate lenses, which effectively reduce the weight and add to the durability and active life of the lamp.
The full range of these stylish and attractive headlamp inserts includes High and High/Low beam functions and incorporates the popular 7 (178mm) and 5  (146mm) round, plus the all new 165 x100mm and 200 x 142mm rectangular units.
Each headlamp insert is ADR approved and is ideally suited to upgrade applications in popular vehicles or fitted as original equipment or upgrades in buses, trucks and special vehicles.