Scientists at IBM Research together with experts at Airlight Energy, ETH Zurich and Interstate University of Applied Sciences Buchs NTB are developing a design to dramatically increase the efficiency of concentrated solar power systems which it says will be suitable for mass production.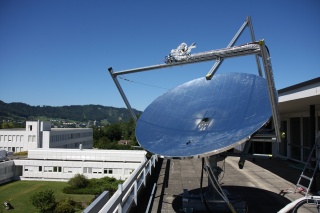 The high concentration photovoltaic thermal (HCPVT) system uses a large mirrored parabolic dish mounted on a tracking system to align it with the sun. The incoming solar radiation is directed from the mirrors onto liquid cooled receivers which convert the solar energy into electricity.
 The system could be used to deliver electricity, fresh water and cool air in remote locations.
Current concentration photovoltaic systems only collect electrical energy and then dissipate the thermal energy to the atmosphere. However, with the HCPVT the heat collected by the coolant in the receivers will also be reused for water desalination and to provide cooling via an absorption chiller.