Now more than ever before, Engel offers it's customers clear advantages, in terms of innovative injection moulding machines, automation, processing technology – and value for money !
Engel injection moulding machines are offered in a range of sizes, from 25 tonne to 5,500 tonne clamp force. The machines are modular, and injection and clamp units can be configured to meet the requirements of the customer's application.
Fully hydraulic, hybrid, and fully electric machines are offered, as well as automation and ancilliary machine equipment, all supplied from one source.
 Engel is well known and respected for innovative design and engineering solutions. Engel's tie-bar-less clamping system has been phenomenally successful. The tie-bar-less system is the 'standard' clamping system on the small to medium size Engel machine range. The tie-bar-less clamping system means complete freedom from traditional tiebars, enabling use of the entire platen area, unhindered access to the mould area, and easy clear access for robot and automation solutions.
Engel's continuous growth of market share in all clamping force sizes is based on the launch of new products and product lines. The introduction of the new Viper robot series has enabled Engel to secure further market share in automation. Almost every second automated manufacturing cell sold by a European injection moulding machine manufacturer is now supplied by Engel.
Engel is also clearly the global leader in injection moulding machine automation. One in four robots sold to the European injection moulding industry is now manufactured by Engel. Since the launch of the Viper robot series – a growing number of Engel robots is also being sold on machines of other manufacturers… With the extension of the Engel duo pico series from 350 to 700 tonnes clamping force, Engel has substantially increased its global market share.
In the past five years the market share of large-scale machines over 400 tonnes clamping force in Europe has doubled to approximately 40%. In USA market share also doubled to approximately 20%. Thanks to the strong presence and continuous expansion of production capacity in Shanghai, the market share in Asia also increased substantially.
In the past few years Engel has been fully committed to energy efficiency, thereby significantly boosting the success and competitive edge of its customers. With numerous concepts and solutions for energy-saving and efficient production, best energy efficiencies can currently be achieved for virtually all applications.
Engel is thus energy saver No. 1 on the market. The Engel ecodrive cuts the energy consumption of a hydraulic injection moulding machine by up to 70%. One in three tie-bar-less Engel Victory and one in four Engel duo machines is delivered with ecodrive. The intelligent servo-hydraulic ecodrive keeps speeds down to the actual requirements, and the drive is only active during movements, with energy consumption dropping to virtually zero when the machine is idle.
 Engel is one of the global leaders in the manufacture of plastics processing machines. Today, the Engel Group offers a full range of technology modules for plastics processing : injection moulding machines for thermoplastics and elastomers, and automation, with the assurance that individual components are also competitive and successful in world markets.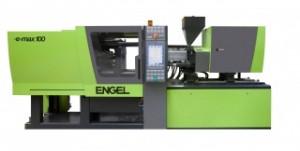 Engel is a 100% family owned company. With eight production plants in Europe, North America, China, and Korea, as well as subsidiaries and agents in over 85 countries, Engel offers its customers the optimal global support they need to compete and succeed with new technologies and leading-edge production systems.
nextSTEP
Contact Techspan Group 0800 603 603, or info@techspanonline.com, or visit www.techspanonline.com