New low profile L.E.D strip lamps have been specially styled to complement modern caravan and motorhome interiors.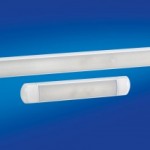 Featuring the latest SMD L.E.D technology, the interior lamps deliver a smooth, yet powerful light output.
Ensuring complete versatility, the lamps are supplied with three interchangeable end caps, allowing them to be surface or corner mounted for a neat, unobtrusive finish.
Multiple lamps can also be interconnected to create continuous lengths of lighting, adding elegance with a professional touch to the interior of a caravan or motorhome. All lamps are fully sealed to IP66 rating and each draws ultra-low current of 0.09A at 12V or 0.05A at 24V and 0.15A at 12V or 0.07 at 24V.
The strip lamps come in 150mm and 300mm lengths in both 12 Volt and 12/24 Volt.