Jordan Thomson from Weta Workshop Ltd in Wellington reflects on their experiences of using Delcam software.
Which Delcam software products are you using?
Current Delcam software multiple  Licenses of Artcam Pro and Powermill 5 axis with Robot interface as a plugin.
Why have you chosen this particular software?
We originally purchased 3 sets of Artcam to do relief based machining from STL data and were impressed by its features and easy to use interface. We decided to also purchase Powermill when we moved into multi axis machining. Powermill was, at the time, one of the few packages which supported machining from any type of digital model.
We need to mill from CAD data from a number of different CAD packages some of which are unique to the film industry. For this purpose, we can use Delcam's exchange software which can convert pretty much any type of file format to something which it can machine from.
It also made sense to choose software from the same vendor to help with maintenance issues if they happen and Delcam has a reputation for being the best in the business.
Why have you chosen Delcam?
We originally purchased Delcam software through their agent Camplex who represented Delcam in New Zealand and Australia; I am excited to hear about their company expanding since becoming Delcam Australia and Delcam New Zealand.
I have a lot of respect for how Delcam operates it's business and its continued focus on R&D. Delcam has made our job easier as we rely on many of the unique toolpath strategies and tools that exist only within Powermill and Artcam to get it done.
They are capable of matching the software to a specific customer's needs. They pay attention to customer feedback and every upgrade comes with big improvements.
How has the software made your company work better?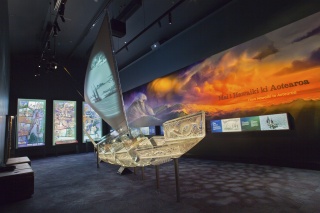 Our CAD CAM department has become one of the busiest departments in the workshop since investing in the software and the hardware it controls. CNC machining is one of the most effective ways of turning complex digital models into physical objects.
With the combination of Artcam and Powermill we have the capability to machine from any in house or customer generated CAD data without any complication. The toolpaths posted by both Powermill and Artcam never cause problems within the CNC controllers and this is something I have noticed when dealing with other CAM software.
Is your company more efficient from using it?
In order to stay competitive in the film industry in the age of digital effects, innovation is essential. As a workshop which mainly employs artisans from traditional hands on background we have found the digital tools have offered huge advantages.
The same artisans have upskilled to using this machinery and in so doing are saving time on jobs and pushing the boundaries of possibility. It doesn't take anything away from the artists but offers a huge range of tools for them to choose from to create their work, in some cases it would be impossible for us to do the work by hand and would otherwise have missed out on the work entirely. The 64bit versions of the software made massive time saving improvements so we purchased specific computers to match Powermills output.
As we regularly machine one off models from large files it was definitely noticeable, calculation for a complex 5 million line toolpath went from over an hour to less than 10 minutes. Smaller files can take just seconds.
What applications is it used for?
Weta Workshop is a facility which services the Film and Television industry along with public art sculpture and museum display. We are mostly known for our work in the motion picture industry where we provide special effects, design and manufacture of props and models along with makeup and prosthetics.
Our CAD CAM department machines everything from swords, guns, and armour components to large scale sculpture, vehicle bodies and museum displays from a variety of machinable products.
We can create products milled in metal alloys for hero items or urethane mould masters to be used to produce hundreds of replicas for an army of extras to use in only a fraction of the time it took to create by hand.
On the intricate end, working mechanisms for animatronics can be accurately milled to fit exacting tolerances and endure long periods of use.
Has it allowed your company to open up new markets?
We have regular interest in the use of our machines from all over the world.
Is it Lean related?
Yes we work in a very competitive market where we have to convince clients from overseas that they should bring their production to New Zealand. In most cases it means very tight budgets which must include shipping container loads of products to the other side of the world where there is also local competition to bid against.
Automation is sometimes the only way we can compete, we also strive to be the best and since purchasing the software to do it the level of quality and sophistication of the work has increased significantly and we are able to keep costs to a minimum.
Has business increased?
Weta Workshop is one of the last remaining special effects facilities in the world and is the largest of it's kind. Simply staying in business is a feat in itself. We are still as busy as ever in our CAD CAM department because we can serve a variety of different industries.
Since investing in the software which was actually what defined us as having a CAD CAM department we have grown from a team of 3 model makers to a team of 10 operating 6 CNC machines and a large industrial welding robot converted to a CNC type control.
Can you foresee more work coming in to your company?
We have been working on upgrading our custom built CNC machine to match the control capabilities offered especially by Powermill. We feel with the improvements we can offer a service for multiaxis machining that would be hard to match without huge investment in machines and software. Powermill is the Rolls Royce of CAM software and it will help us get the work we want and will be proud of.
Do you export?
Yes, we send our products to many destinations around the world.
Do you contract manufacturer?
Sometimes