A new line of ultrasonic thickness gauges now includes the Sonagage IV, T-Gage V, Microgage III and Steelgage II.
The Sonagage IV is a straight-forward gauge for corrosion applications & can measure metal loss within a range of 1mm-500mm to an accuracy of +/- 0.1mm. Ideal for operators testing a few different materials, the Sonagage IV has 8 set-ups for common materials & 2 custom set-ups.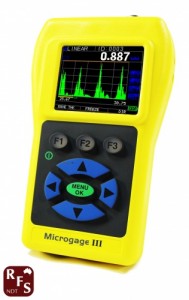 Also for corrosion assessment is the T-Gage V series, which comes with monochrome display as standard. All models can be ordered with a colour TFT display. Simple in-field upgrade options, for such features as data logging (with Data XLS software) & A-Scan/B-Scan displays are also available throughout the life of upgradeable models.
The T-Gage V comes in three standard models. The T-Gage V-B has a variable velocity facility to allow a wider range of materials to be measured. The T-Gage V is a mid-range model which offers the most popular features including echoÐto-echo for ignoring coatings, alarms & ÒTransducer attendantÓ which notifies the user when it is time to replace the transducer.
The T-Gage V (CDLW) is the top of the line model offering all the features of the T-Gage V, plus colour, waveform and data logger, allowing storage of up to 100,000 readings. A powerful feature & unique in its class is the B-Scan which allows up to 20 thickness readings per second to be displayed in a cross-sectional view & stored for future reporting.
The Microgage III is ideal for precision applications which require greater accuracy & capability. The Microgage III is available in 7 different configurations including basic, datalogging, with & without waveform in colour or monochrome.
All gauges weigh only 230 g & have a battery life of up to 200 hours. They come with a limited 2 year warranty, couplant & carry case as standard.
Cygnus Instruments ultrasonic thickness gauges are also available.