X4 is a new multi-edged, tangential tool for parting off and grooving of small components. Available in cutting widths from 0.5 Ð 3.0 mm (.031ÕÕ Ð .093), X4's inserts minimise material consumption in parting off and enable precise grooving and copying of small and medium-sized, complex parts. Performance is further enhanced through X4's tangential insert bodies that ensure high rigidity, stability and productivity.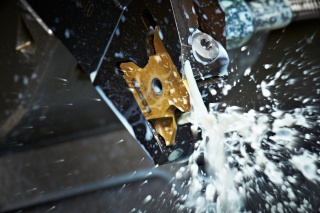 To increase flexibility, every specific X4 insert seat can accommodate all X4 insert types, allowing for reduction of tooling inventory. Depending on the cutting edge width, the tool's maximum cutting depth ranges from 2.6 – 6.5 mm (.102  .256) and can cut off maximum bar diameters from 5.2 – 13 mm (.205 Ð .512). X4 inserts are available in neutral, right-hand angled and left-hand angled cutting edge options.
Ideal for a wide variety of common workpiece materials, X4 uses CP500 and CP600 insert grades. CP600 features a mix of toughness and wear resistance suitable for most general applications, while CP500 provides increased wear resistance for more challenging applications.
To further increase X4's performance, inserts with the MC chipbreaking geometry can be applied. This versatile geometry achieves excellent formation of comma and clock-spring chips in a variety of materials and uses a straight front edge line to guarantee a straight bottom within a groove.
All toolholders provide the unique Jetstream Tooling Duo technology to further enhance productivity, lengthen tool life and improve chip control. By delivering coolant from two outlets to optimal points in the cutting and heat zones, Jetstream Tooling Duo contributes to efficient cooling, improved chip control and high part quality.
X4 will be offered in shank sizes metric 2020 and 2525, imperial sizes .63, .75 and 1.00, and Seco-Capto C4, C5 and C6.