The high and medium-high technology manufacturing sectors have shown growth and resilience despite global economic challenges, a new Government report shows.
The High and Medium-High Technology Manufacturing Sectors Report was recently released by Economic Development Minister Steven Joyce.
High-tech manufacturing includes pharmaceuticals, aircraft manufacture, professional and scientific equipment manufacturing, and computer and electronic manufacturing. It is a small but fast-growing part of our manufacturing sector counting for 0.7 per cent of GDP and 3 per cent of our total exports.
Medium-high tech manufacturing products are diverse and range from domestic appliances, to motor vehicles and parts, milking machines and insecticides.Ê The sector is almost double the size of the high-tech manufacturing sector at $2.8 billion a year in exports.
'These sectors are making a substantial and growing contribution to our economy," Mr Joyce says. "Both were affected by the Global Financial Crisis but, as the report shows, they have bounced back, overcome barriers and shown renewed growth since 2010.
"High-technology manufacturing has developed from small beginnings to become a significant export earner – from $139 million in 1991 to $1.4 billion in 2012 Ð and is now growing faster than the New Zealand wine industry.
"The sector spends almost four times the New Zealand average on R&D and this investment is paying off. Firms in the sector are producing smart, innovative products that New Zealand is known for internationally."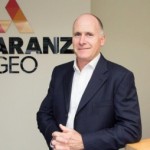 The High and Medium-High Technology Manufacturing Sectors Report is the second in a series of seven Government reports that also includes ICT (released last month), construction, petroleum and minerals, tourism, knowledge-intensive services, and an overall report on all the sectors. Together they will make up the New Zealand Sectors Report 2013.
"Under the Business Growth Agenda, the Government has set a target to increase exports to 40 per cent of GDP by 2025," Mr Joyce says.
Picture: Shaun Maloney, CEO, ARANZ Geo.
"Within the BGA there are 58 specific initiatives that directly relate to the high and medium-high technology manufacturing sectors. These include establishing Callaghan Innovation to encourage greater business investment in research and development, lifting R&D co-funding to $142 million per year, and helping to better commercialise smart ideas into successful products.
"This report shows there is a lot to celebrate about New Zealand's high technology and medium-high technology sectors. It highlights the exciting opportunities that exist to grow them, and boost investment and jobs for New Zealanders and their families with strong economic policies that keep improving the competitiveness of New Zealand firms."
The High and Medium-High Technology Manufacturing Sectors report is available at: https://www.mbie.govt.nz/what-we-do/business-growth-agenda/sectors-reports-series/high-technology-manufacturing-report