Manufacturing activity for July continued the trend of healthy expansion in the sector, according to the latest BNZ – BusinessNZ Performance of Manufacturing Index (PMI).
 The seasonally adjusted PMI for July was 59.5 (a PMI reading above 50.0 indicates that manufacturing is generally expanding; below 50.0 that it is declining). This was 4.3 points higher than June, and compared with previous July results the 2013 value was the highest since the survey began in 2002, as well as the third highest monthly result on record. Overall, the first seven months of 2013 has averaged a healthy 56.3.
BusinessNZ's executive director for manufacturing Catherine Beard said that the July result provides further impetus into a continuing trend of a sector in good heart for 2013.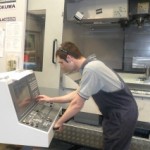 "Unlike the lacklustre results during the middle part of 2012, the 2013 results have not only held up, but have improved since the start of the year. Positive comments from manufacturers have surged to 67.3%, highlighting an increase in foreign and domestic orders, as well as an uplift in the general economy.
"Like previous months, strong new orders and production remain a key element for overall growth in the sector, which was evident in July. In addition, deliveries of raw materials produced its highest level of activity since the survey began, further boosting the overall result."
BNZ economist Doug Steel said the PMI results were very impressive given the marked slowdown in the Australian economy and its importance for NZ manufactured exports. "It just shows how positive domestic demand is becoming."
Given the continuing healthy levels of activity in the sector, all five seasonally adjusted main diffusion indices were again in expansion for July. Deliveries of raw materials (62.3) led the way for July by the thinnest of margins, as production (62.2) and new orders (62.1) were almost identical in terms of activity. Employment (53.1) picked up 1.2 points after a dip in expansion for June, while finished stocks (52.6) remained at a similar level to the previous month.
Expansion was experienced in all parts of the country in July. The Canterbury region (62.7) led the way in July, recovering from a dip in expansion in June. The Northern region (60.2) continued to show healthy growth, while the Central region (58.3) returned to expansion after a slight fall into contraction during the previous month. The Otago-Southland region (54.7) improved 1.5 points from June, and has now been in expansion for three consecutive months.