-Doug Green
GMP Dairy Limited has launched the  'Ogni' organic dairy product range and announced that they have gained a significant organic export order to China.
 GMP is a leading manufacturing company specialising in a wide range of natural health and dairy products of Australian and New Zealand origin.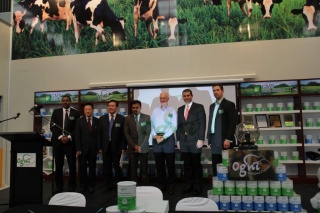 Picture Caption: From the left:
Ravinesh Kumaran – Acting General Manager – GMP Dairy Limited; Mr. Chen Feihua – Vice General Manager of Salt Bureau of Guangdong Province; Mr. Peng Haibin – Chairman of Guangdong Salt Bureau of Guangdong Province; Minesh Patel – General Manager – GMP Pharmaceuticals Limited; Stuart Gray – General Manager, Fonterra Global Sales New Zealand; Jami-Lee Ross – National MP for Botany and Eion Jansen – National Sales Manager – Fonterra New Zealand.
The company is playing a pioneer role in New Zealand's organic dairy programme utilising their expertise to realise high value, market ready products for export, especially into Asia.
 The potential for high quality organic products is huge as nations around the world look to enhance dairy products for their consumers. Organic products are highly sought after and fast becoming more the market standard than is necessarily realised.
 Fonterra is also an important player in this development, supplying to GMP a substantial quantity of their organic milk powder since 2012.
And it gets better…GMP has reached an agreement with a significant State Owned Enterprise as its exclusive distributor in China.
GMP is the recipient of significant business and export awards both in Australia and New Zealand for its successful business model and innovative solutions to international trade.
The company's business model is based on identifying, processing and transforming food and nutritional ingredients into high value finished products, especially for the Asia markets, where there is high demand for those products for cultural or nutritional benefits.
The company started by identifying ingredients from animal products such as bee products, shark cartilage and shark liver oil, fish oil, deer antler, animal by products and green lipped mussel extracts; and later into herbal supplements such as bilberry, Blueberry, green barley and grape seed extracts.
Since 2001, GMP has been paying more attention on dairy ingredients such as colostrums, lactoferrin, milk calcium and infant formula. Organic milk is the company's most recent project under its business model. In these times, with the search for quality organic products becoming prominent, GMP has left no stone unturned to produce Ogni, a certified organic brand with a range of organic products.
 GMP's organic milk is sourced from certified organic farms, which are free from synthetic fertilisers and pesticides. The milk comes from green, natural and sustainable farming systems in harmony with nature. Organic production and certification standards ensure that no harmful chemical inputs or genetically modified materials are used and organic practices work to respect all life, bio diversity and take into account animal welfare considerations. Organic milk is a rare resource and accounts for less than 1% of the total milk production in New Zealand. It takes 3 years to turn conventional dairy farms into organic farms.
 The company believes that this is a significant milestone for the organics programme in New Zealand and that this will be very beneficial for New Zealand in terms of buildings its organic profile. There is no doubt that organic farming enhances soil and nutrient recycling and reduces reliance on chemicals. The organic approach would benefit future farmers, society and the environment.
Organic farming needs great organic products and more importantly a great consumer market, especially export markets. GMP's organic range of products is already selling in Australia and New Zealand markets and consumers can find them in selected supermarkets and organic stores.
 This is a real cause for celebration, a success story and a great example of Kiwi innovation and product development. GMP's Ogni products are a welcome addition to the organic market.