A tough, bendable twist tie that has hundreds of uses around the home, garden, car, boat, work or farm has just been introduced to the New Zealand market.
It's called the Gear Tie and the name says it all.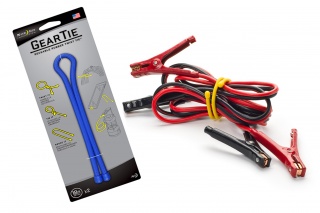 Made of a sturdy, colourful rubber exterior with a strong bendable wire interior, the Gear Tie can be used to wrap, tie, secure and organise just about anything, from cables, tools, bundles of material and other items in a neat twist.
Or they can easily be bent into the shape of a stand to hold a tablet computer, cellphone or other device where it can be easily viewed.
Available in a range of colours, including green, orange and black, Gear Ties also come a a variety of sizes from 15cm (6 inches) to 61cm (24 inches).
They are great for tidying cords on power equipment in the garage and keeping them from getting tangled or to keep ropes in place on a boat. Loop them around tools and hang them off a hook in your garage or use them to hang lanterns from during summer garden parties or bar-b-cues. They are so easy and quick to use, I'm sure people will find endless ideas for them.
Gear Ties are waterproof and safe for use in fresh or salt water without damage. They are also UV resistant and will not be damaged or destroyed by extended sun exposure, so Gear Ties can be used in all weathers outside, as well as indoors.
The tough rubber shell provides excellent grip and the strong wire inside holds its shape and can be bent, tied and untied countless times without losing its strength or breaking.
And with the outside casing being made from rubber, it won't mark or scratch delicate items.
Gear Ties come in twin packs and are available through automotive and other retail outlets throughout New Zealand.