In the picture: The production team and the machine platen.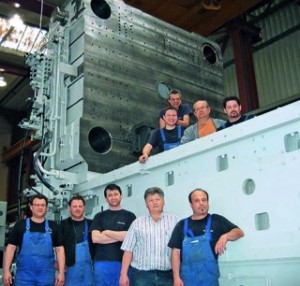 Krauss Maffei of Munich Germany have supplied BMW's production plant at Leipzig, Germany with two double swivel plate Injection Moulding machines, complete with industrial robots that produce multi material plastics components for the New BMW i3 which went into production in September 2013.
The MX 4000-17200/12000/750WL machines are impressive with dimensions of 24m Long x 9M wide x 7m High. They have a clamping force of 4000 tonnes and are producing the thermoplastic outer shell and combined substructure of the BMW i3.
The BMW i3 is a five door urban electric car and is BMW's first zero emissions mass produced vehicle that features carbon-fibre reinforced plastic that improves the vehicles energy consumption. Using the 'joining in injection moulding' process, the outer door shell and its substructure are injected in a single pass and are then joined when the two swivel plates turn and are bonded with a third plastic component. The combined work processes are said to ensure very high dimensional accuracy of the parts.
The Injection Moulders were specifically developed for the project and produce the sidewall panels, rear bumper and hoods for the new generation BMW i3's.