Blue Wing Honda have engaged Blackhawk Tracking Systems to develop a world-first solution to help improve ATV safety with a focus on driver behaviour and communication.
 Called Farm Angel, the Blackhawk technology is being trialled by Landcorp Farming Ltd, which is committed to improving safety on farms. Landcorp will trial the equipment on around 60 ATV and Side by Side vehicles.
"This is a unique solution which will enable rider/driver behaviour to be monitored, modified and improved" says Blue Wing Honda General Manager Alan Petrie. "The aim is to save lives before they need to be saved, but should an accident unfortunately occur, Farm Angel will also assist in the recovery of seriously injured or trapped riders.
"We have been working with Blackhawk for some time to create the right system that not only helps the ATV rider get out of trouble quickly by sending an immediate automated alert to a first response Call Centre, but also improves on-farm communication while giving peace of mind to farmers, their employees and their families."
Initial feedback is that it's an idea that fulfils several needs so we are proceeding to an on-farm trial with Landcorp, says Petrie.
"We believe this is a world-leading initiative with multiple safety features that will lead to significant improvements in driver behaviour, enhance on-farm communication and, ultimately, help reduce accidents," says Blackhawk chief executive Andrew Radcliffe.
Providing 100% on-farm coverage, Farm Angel includes a GPS/satellite tracking device, route tracking and monitoring to benchmark rider/driver behaviour, including acceleration, speed and tilting. Alerts are automatically activated if pre-set limits are breached and hours of use can also be tracked and signals given when servicing is required.
The device also determines who can operate an ATV with a key-fob or medical wristband that activates the ignition, thus stopping use by underage or non-trained riders.
If the ATV rolls or tips right over, emergency services or a pre-determined number will be automatically alerted, enabling a fast automated response to any remote location to attend to a trapped or injured rider. Drivers can also manually send requests for assistance via the fob or smartphone application.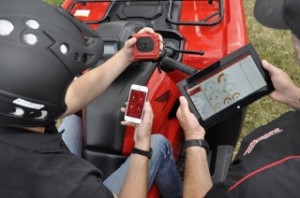 "All the information gathered can be displayed to the farm manager through an online or mobile interface, helping with rider behaviour and safety plus the security, servicing and overall management of the quad bike," says Radcliffe.
ACC claims for ATV accidents in 2013, which include quad bikes, farm bikes, 4 wheeler and 3 wheeler – amounted to more than $3.2 million. The vehicles are involved in about 850 on-farm injuries and five deaths a year, with coroners repeatedly calling for easy-to-activate alarms or communications systems to be introduced.
"We've taken that message on board and with Blackhawk and believe we have created an ideal solution," says Petrie. "Blue Wing Honda has been a pioneer in ATV innovation and safety for decades and that continues with Farm Angel.
"Eventually we would like to see Farm Angel standard on every new ATV and available to install on any farm vehicle, similar to when seat belts became compulsory for all passengers in the 1980s. It's about protection and prevention and using technology to achieve that.
"But we do still strongly recommend ATV drivers undertake approved training courses, wear helmets at all times and follow all other manufacturers' guidelines."
Landcorp Chief Executive Steven Carden says that Landcorp have been proactive in working to reduce the number and impact of accidents involving 'Quads' over the last two years.
"We see Farm Angel as being a great extension to our stability study which we used to inform riders of the capabilities of their vehicles, especially when towing or carrying loads.
'We also acknowledge that rider behaviour is a major cause of accidents involving the quad, and see Farm Angel as a potentially powerful tool in identifying areas where further rider education is required," said Carden.
 Once the trial is complete, Blue Wing Honda and Blackhawk plan to market Farm Angel throughout New Zealand and internationally.