When it comes to 3D scanning, more and more solutions are becoming available as the months go by. 3D scanning is allowing us to take photographs of people and things, in ways that we could never imagine before.
 Instead of only being able to look at a flat, 2-dimensional photo, we can now interact with 3D photographs via our computers, and create 3D replicas with the use of 3D printers.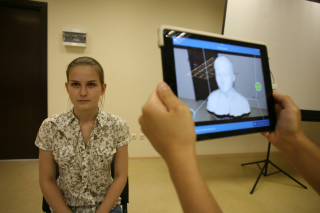 A company called itSeez3D has come up with a new iOS application, that when paired with the Structure Sensor allows people to take full 3-dimensional photographs of people and objects. It has an incredible ability to capture color and structural information of a subject, and then process it into a realistic looking 3D model.
The app has the capability of capturing high resolution data, and features a unique augmented reality feedback system which enhances the scanning process (see video below). Once a scan has been captured, users have the ability to email the 3D representation to their friends, in .ply or .obj file formats, or simply upload it to sketchfab.com.
Users can also 3D print it at home on their own 3D printers. If it is printed on an at-home FDM or SLA 3D printer, however, the colors will not print because of the current technology available.
On the other hand, if a high quality 3D printer is used, the colors will be able to be preserved. For example, users could send their 3D scan to Shapeways or another service, to have it printed in full-color sandstone.
itSeez3D has already uploaded 18 different models that they have created using the app, to their sketchfab profile, and I must admit, the quality appears to be excellent. Uploaded models include several people as well as a stuffed animal, a sneaker, a mug, and more. Check out one of these interactive models below:
Currently the app is only usable on the iPad 4 and iPad Air. Other device compatibility may be coming at a later date. The app is free, but a Structure Sensor will cost you. What do you think? Would you use an app like this to 3D print replicas of objects?