Tim Schurr and Shaun Maloney.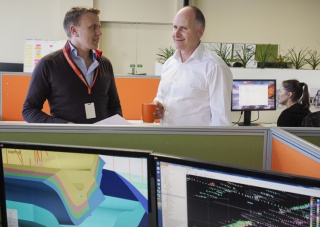 ARANZ Geo Limited, a recognised world leader in the visualisation and interpretation of geological sciences, has been named as a finalist in the 2014 Champion Canterbury Business Awards in the Global Operator category.
ARANZ Geo has built a global reputation in the mining industry in particular as the developers of 3D geological modelling software Leapfrog® which is sold to over 50 countries.
Catherine Schache, Commercial Director of ARANZ Geo said, "We've been through a period of extremely high growth, as we continue to open up markets around the world. This is a fantastic acknowledgement for the team who have been working hard to develop innovative products with global appeal. We're committed to Christchurch and we're really pleased to be contributing to the region's international reputation."
Schache says the team has had cause to celebrate their achievements this week. Earlier in the week the company announced that Wellington-based Pencarrow Private Equity had taken an equity stake securing a mixture of existing shares and new shares through a significant investment. CEO Shaun Maloney also received a Prime Minister's Business Scholarship to study at Harvard Business School and London Business School at a function at the Beehive recently.
Schache says, "We're really gearing up to further accelerate global expansion and product plans to build on our past strong growth. We'll also be looking at strategic acquisition opportunities."
ARANZ Geo's R&D and head office is based in Christchurch and sales and support offices are located in Australia, Chile, Brazil, Denmark and Canada, with distributors in South Africa, Colombia and Mexico.