The AeroCheck Eddy Current Flaw Detector is fully capable of all the typical eddy current inspection applications on an aircraft including paint thickness, sub-surface and surface crack detection.
The AeroCheck is ideal for inspecting areas such as: Wheel brakes; Wheels; Landing gear; Fasteners; Engine mounts; Fuselage; Wing surface and hinges; Bulkheads; Door access points; Engine blades; Engine discs and much more.
Fitted with the industry standard 12-Way Lemo connector and co-axial Lemo 00 connectors the AeroCheck can be used with absolute, bridge and reflection probes without the need for adaptors.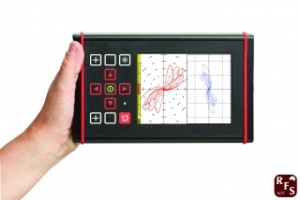 The AeroCheck includes rotary capability as standard and can be used with the ETher Mercury, Hocking 33A100, and Rohmann MR3 Drive. With a crisp daylight readable LCD colour screen, weighing just 1.2kg and housed in a tough case, the AeroCheck is ideal for working in any environment and can be used for up to ten hours with a pencil probe and seven hours with the rotary drive and probe attached.
The intuitive menu options can be configured to the user's personal preferences and with the built-in "flip" function the AeroCheck works equally well for left or right-handed operators.