"One of the most appealing aspects of Universal Robots' new generation of industrial robots is they no longer require specialist knowledge to operate."

Pic: Steve Wilson
High labour costs and geographic remoteness have meant to be competitive in global markets, New Zealand (NZ) manufacturers have needed to apply new, innovative technologies to their production processes to deliver products to market faster, cheaper and with the highest level of quality.
To solve part of that problem, Talbot Technologies deployed two of Universal Robots' UR10 industrial robot arms to perform in-mould modelling, transfer moulding and co-moulding tasks on the company's Christchurch production line. Since the installation of the first UR10 in 2013, Talbot Technologies has already reported increases in productivity, reliability, quality and cost savings.
Best-in-class technology and support: Talbot Technologies is an integrated technical plastics manufacturer and solution provider that works as a design, development and production partner across a wide range of industries, for companies across the globe.
Talbot Technologies, like so many NZ companies, has been trialling various technologies aimed at providing high quality output at a lower cost.
Having been introduced to Universal Robots' technology by Design Energy, the company's NZ distributor, Talbot Technologies began exploring various application options.
According to Steve Wilson, Executive Director of Talbot Technologies, the business required a flexible, ease-to-program five axis robot for a particular type of application.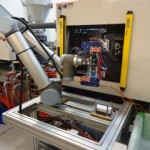 "We conduct complex in-mould labelling which has quite a few components and a fixed rail robot simply doesn't have the capacity or the versatility to deliver the type of results we need. After extensive discussions with Design Energy, we agreed that the style of robot offered by Universal Robots would best suit our requirements," Wilson commented.
"We had looked at other robots, however the strong ROI combined with its reliability and versatility made the UR10 a more desirable value proposition for us overall.
"Also another important factor in our decision was knowing we had the support of Design Energy who has all the capability of systemising the robot to our particular application," said Wilson.
Safe and easy-to-program: There are many important factors to consider when investing in new technology – including the safety of your staff.
"The safety of our employees is paramount. The collaborative nature of the UR10 means our employees and robots can work on the production line together and share the workload of tasks – without the threat of injury," said Wilson.
In contrast to traditional industrial robots in the market, Universal Robots' small and lightweight robotic arms are able to work safely alongside staff (subject to a risk assessment). The UR10 robots comply with the ISO standard for Collaborative Robots never exceeding a force of more than 150
newtons. The robots are also equipped with a state-of-the-art "stop-force" safety feature which automatically stops the robot from operating when it is subject to substantial resistance.
Another major factor to consider when investing in a new technology solution is its level of complexity.
According to Wilson, "One of the most appealing aspects of Universal Robots' new generation of industrial robots is they no longer require specialist knowledge to operate. Our technicians can quickly and easily learn how to program and operate the robots, saving the business a great deal of time in the implementation phase and in re-purposing the robots to carry out different tasks."
The UR10 can be completely reconfigured and deployed for any number of tasks in a matter of hours. The programming is very intuitive, combining a graphical user interface with a teach function which enables the operator to simply grab the robot arm and show it how a movement should be performed. The user-friendly interface then allows staff to drag and drop the routines to do their programming – this functionality is very similar to an iPad.
UR10s in action: In the past, Talbot Technologies relied heavily on manual handling of products and in some cases utilised rail robotic technology. However due to the company's rapid growth, Wilson needed to streamline the production process to help drive efficiencies in workflow.
"The UR10's have enabled us to combine functions that occurred off-machine and on-machine and others which happen either prior or post production – helping us to better streamline the process flow," Wilson said.
When asked what appealed to him the most about the Universal Robots UR10, Wilson was quick to acknowledge the technology's compactness, ease-of-programming, as well as value for money and the short payback period on return.
"At the moment the main cost reduction is gained through an improvement in quality. We always get exactly the output we want product wise without repeatability through error which has provided a solid return on our investment.
"We expect to see a full return on investment within 12 months from implementation which for us provides significant cost saving benefits which can be used elsewhere to expand our rapidly growing business. We are planning on adding additional functions to what the robots currently do which will make other downstream processes obsolete and provide further return as we go forward."
Final thoughts:
Wilson said that Talbot Technologies was expanding exponentially and the workers displaced on the manual labelling process had been redeployed in other areas of the operation which offered further productivity benefits.
He said overall the biggest single reason for recommending Universal Robots is the size of the unit. "They provide all the flexibility we require to perform complex tasks, moving between in-mould labelling, transfer moulding and co-moulding efficiently and effectively".