Rockwell Automation has announced the launch of the Allen-Bradley ArmorStratix 5700, its first on-machine switch. Built with ruggedised IP67 protection, the Layer 2 managed industrial Ethernet switch can be mounted directly onto a machine or application, reducing the overall size and cost of a control cabinet, and shrinking the machine footprint.
In many applications, cabinet space for system-level networks is limited or nonexistent. The ArmorStratix 5700 switch expands the Allen-Bradley On-Machine offering from Rockwell Automation – an industrially hardened portfolio of products that requires no cabinetry – and leverages pre-configured, quick-connect systems and simplified wiring layouts to reduce installation, troubleshooting and maintenance activities."
The ArmorStratix 5700 managed switch advances connected enterprise goals by delivering integration of machine-level data that, due to cost or location, would otherwise remain isolated from business-level systems. Using the Cisco IOS network infrastructure software, this switch manages the transfer of production data to enterprise-level databases and information systems for improved decision making.
Senior analyst with ARC Advisory Group comments: "Machine-mounted Ethernet switches with M12 connectors and IP67 ratings are very popular among machine builders. The new ArmorStratix 5700 switch is a joint Rockwell Automation-Cisco developed product that includes these features along with Cisco IOS. This robust, machine-mounted switch is a new development that should go a long way toward resolving the information technology/operational technology struggles in manufacturing plants today."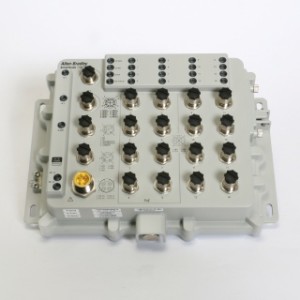 This industrial switch simplifies the design and development of machine-level networks through configuration and monitoring tools. These tools help enable easy setup and diagnostics from within the Rockwell Automation Integrated Architecture system – bridging the gap between IT and the automation engineer.
The ArmorStratix 5700 Layer 2 switch offers high availability, Quality of Service (QoS), and automated monitoring to help simplify network optimization and convergence. The switch comes standard with 8, 16 and 24 fixed-port configurations, and each base model comes with M12 Ethernet connectors, SD flash card, dual-power inputs and a panel-mounted design. An expanded ArmorStratix 5700 switch offering includes 10 and 18 fixed-port configurations, with 2 gigabit ports, hardware-based IEEE 1588, hardware alarms, and up to eight Power over Ethernet (PoE) ports.