Picture: (From left to right) Andrew Larke (Global Head of Chemicals for Orica), Matt Cawte (General Manager of Orica NZ), Stuart Crosby (Mayor of Tauranga).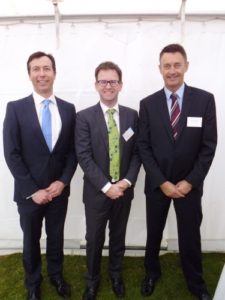 A $35 million state-of-the-art upgrade has taken place at of Orica's manufacturing facility at Mt Maunganui.
The investment is a response to growing demand for Orica's products. The upgrade resulted in major changes to the site's manufacturing, storage and handling, and waste management facilities, to increase efficiency and ensure the operation's long-term future.
Today's facility is an exemplar of environmental and manufacturing best practice, which is crucial in an industry where safety is paramount.
"We're always seeking to raise the bar," said Orica New Zealand General Manager Matt Cawte. "We supply essential products to many of the country's leading industries. This significant upgrade ensures we have the flexibility and capability to meet the rapidly changing needs of our customers; it signals our commitment to the Bay of Plenty as the centre of our operations and the source of our future growth."
Mr Cawte says the benefits of Orica's investment will reach well beyond the site gates and extend into the wider Bay of Plenty community.
The upgrade has led to a reduction in waste through better capture and recycling operations; it has also enhanced the separation and management of storm and waste water streams.
The site's chemical storage and handling facilities, too, have been improved. This includes a comprehensive upgrade of its main storage tanks, new containment compounds and advanced control systems.
ICI (now Orica) first established a presence in the Bay of Plenty in 1963. Orica now employs over 75 staff at the Mt Maunganui site.
Today, Orica is a leading provider of chemicals to New Zealand's dairy, food and beverage, water, and pulp and paper industries, supplying over 300,000 tonnes per year.
Key Mt Maunganui site facts
• $35 million invested in the plant upgrade
• Manufactures more than 100,000 tonnes of bulk and blended products per annum
• Employs 75 staff
• 10,000 truck movements in and out of the site per year
• Site area is 20,000m2
About Orica
Orica manufactures and supplies chemicals to New Zealand's water treatment, dairy, food and beverage, pulp and paper, general corrosives, mining and lubricants industries, among others. Orica's parent, Orica Limited based in Melbourne, is a global firm listed on the ASX.